Well, the tables have turned, and now it's time once again for you to see what I ate this weekend.
Friday
5:10 – My alarm goes off for bootcamp. I have been up for hours, worried and stressed about deadlines.  NO, thank you! My cortisol levels will thank me for hitting the snooze on this one and trying to get an extra couple hours of sleep.
7:05 –  Okay, Okay — I hit snooze again. Once I'm up, I manage to have two hard-boiled eggs and a glass of water as I jump into the car.
9:00 – Temptation: Greenfield's bagels walk into my life, and I go for it! An Everything bagel with scallion cream cheese, please. And black coffee.
12:00 – I'm starving, and my lunch meeting falls through. Darn, I have to get to the auto body shop because the valet wrecked my car! Also, I'm hangry… Yes, I am getting HANGRY.
12:30 – There is a bag of Greenfield's bagels in the seat beside me. I'll just have a pinch. And another. Ahhh! I reach the body shop.
12:45 – Heading home. Another bite. Another bite. Second bagel down. I have to run to the bank and get back to the office ASAP, but I have a SIFT purchase to pick up at someone's front porch on the way back. (You Greenville gals know what I'm talking about — you have got to GET ON these items or they won't last!) I mean, why eat when you can spend that extra 5 minutes getting 3 tanks for $3 when you have to pack for the beach this week.  SCORE! And still HANGRY.
1:20 – Back at my office, and I have to prepare for a client.  I have a glass of water and get ready to coach my client on her healthy habits, feeling like I need to go to confession. She is walking in the door… was that my stomach?!
2:45 – Rush to the salon for a hair appointment.  Still no decent lunch or snack! Business meeting at lunch was rescheduled to happy hour at the Blockhouse, so I was thinking about this with bated breath.  A loaded potato and a glass of wine was all I could think about! But my stylist couldn't get my color right.
4:30 – Dryer.
5:00 – Sit.
5:25 – Back to the dryer.  "Uh, you're not gonna make your meeting," she says.  Seriously? "But can I get you a water or something?" I should hydrate, right? OK, so I did.
6:30 – Back to the dryer.
6:48 – I was finally out of the salon and ready to eat my right arm off.  And, no, my hair never did take the color.  4 hours later… my lunch meeting and happy hour had now canceled.  I called in Thai food. Green curry to be exact.  Green seafood curry — the best in town.  I added some leftover salmon to redeem myself.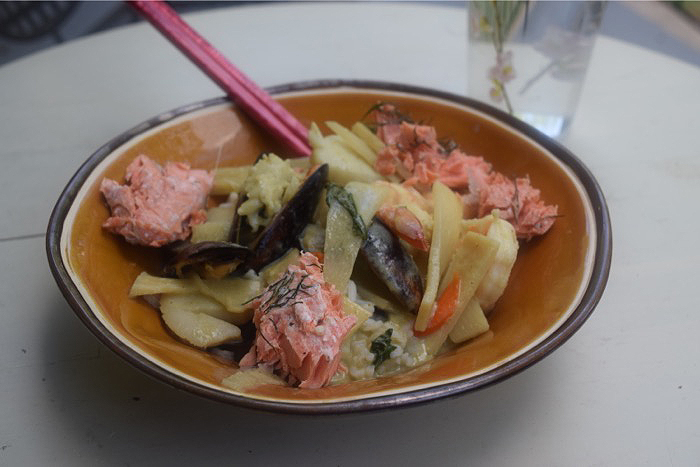 7:15 – Back home on my front porch with Thai food.  I have a cup of green peppermint tea to clear my head.  I have to buckle down and write a bio and acknowledgement for a book I am co-authoring.  Just as I finish, I get a text. My business meeting still stands!
8:30 – I arrive at Cork and Tap to finally meet with a local artist to collaborate on a really fun project that I cannot wait to share with you (Don't miss my Love Local post in August!). I have one glass of Chardonnay.
10:15 – I am finishing this portion of my crazy food diary for you all and heading to bed with a lot less on my mind tonight.  Hoping for a better start tomorrow. Peace.
Saturday
8:30 – Trying to redeem myself today. I woke up and gulped down two glasses of water — then, a hot water with lemon while I began making breakfast.  I decided to use the rest of my salmon over greens with an egg. Still using that huge piece of salmon I got from Costco…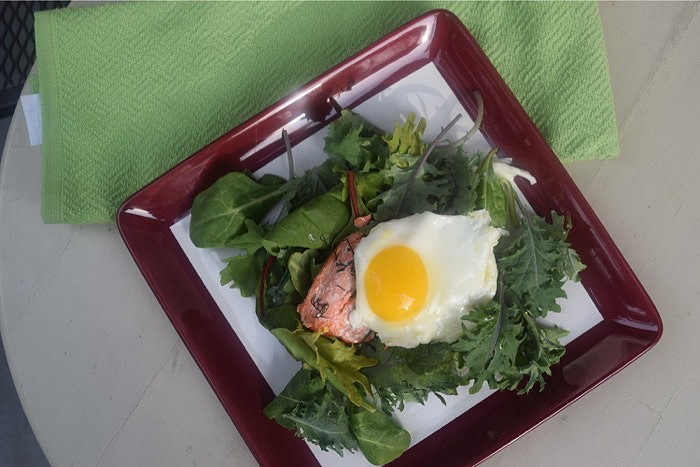 9:00 – I sat down to work for a few hours. I am working on a book project and am on a deadline — that and I have an appointment with my girlfriend at the pool at noon!
12:00 – Still needing to finish some things, but the sunshine is calling! I thrown on the suit and run out the door to meet my friend.  Did I forget to eat lunch? On the way to the pool, I get a disturbing call from a family member. Family emergency — here we go.  The rest of my weekend was out of my hands.
3 :00 – Someone gave me a BBQ sandwich with coleslaw.
6:00 – A friend cooked for me and my family. Salmon, asparagus, bruschetta and wine. Oh, and then my friend made this dreamy dessert of angel food cake with fresh peaches.
Sunday
8:00 – Determined to get back on track and get some things checked off the list today, I awoke and chugged two glasses of water and then some lemon water while I came to a stopping point on the book project.
10:00 – Quinoa bowls! You will have to hold your horses till Thursday to grab the recipe!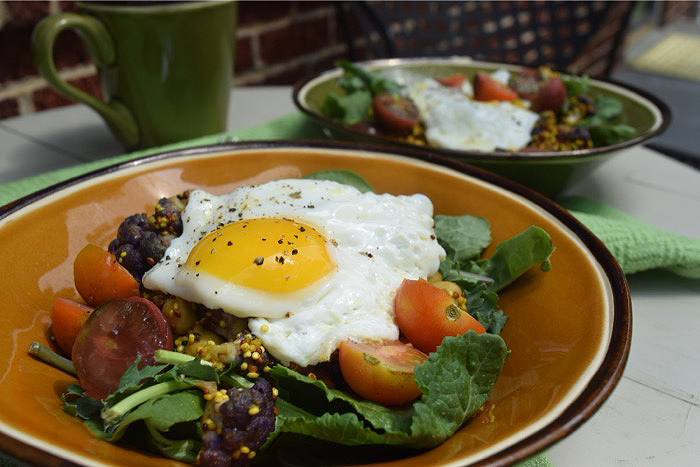 12:00 – Took a long walk with my sister.  A long, hot humid walk.
1:00 – Half a papaya and two glasses of infused water.
3:00 – HAD to get some better photos on My Road Less Traveled page, so we had a little photo sesh in the backyard. Pop on over and take a look! What do you think?! Those were a long time coming.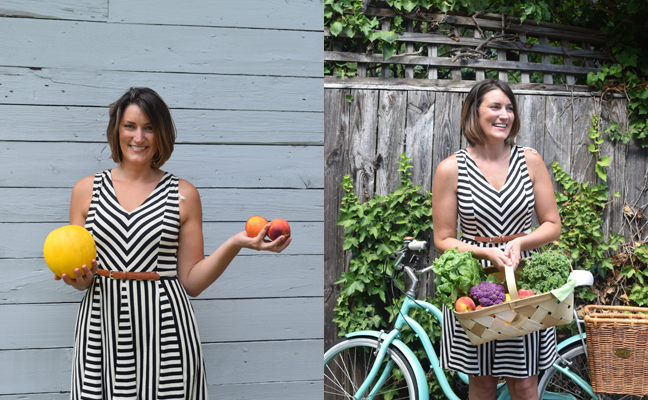 3:30 – Have I forgotten to eat again?! I am about to eat my arm off.  So another quinoa bowl it is.  With an egg cracked over the top.
4:00 – More work.
6:00 – Exhausted from the family situation and deadlines this weekend, my sister and I went down the street to the Blockhouse. I had a side salad, glass of chardonnay, and a loaded potato with brisket. YES.  And I ate 1/4 of it and took 3/4 home. This will last me 3 to 4 meals.
So, you see? Sometimes life and your diet don't always go perfectly — even for dietitians and nutritionists. Life gets in the way. We just have to pick up our feet and keep making progress, just like I talked about last week in my recent post about our relationship with food. Tomorrow is the start of a new week, and I choose to keep on truckin'.
How was your weekend? [sc:apple]
<a href="http://www.bloglovin.com/blog/7409595/?claim=gmnepr6hq5u">Follow my blog with Bloglovin</a>
Busy? Stressed?
We know the Holidays get crazy. We get it. You barely have time to breathe. So join us for our FREE 5-day holiday stress less challenge and lets do this together! Get your copy and start with us today!