I have something different for you today and it is involving 2 of my favorite indulgences: afternoon tea and cookies.  It's been awhile since I talked about the health benefits of tea.  Some of your know I love a great wine dinner with food from local farms and pairings, but today's blog is going to be really fun!
Tea Cookies and Pairings
I want to break down the types of tea and the health benefits that go with it, and pair some with these tea cookies from my friend and fellow boss lady over at Carolina Girl Cooks because a healthy life is all about balance.  We should enjoy quiet time with our favorite indulgences! Don't forget to grab your coupon code at the end of this post!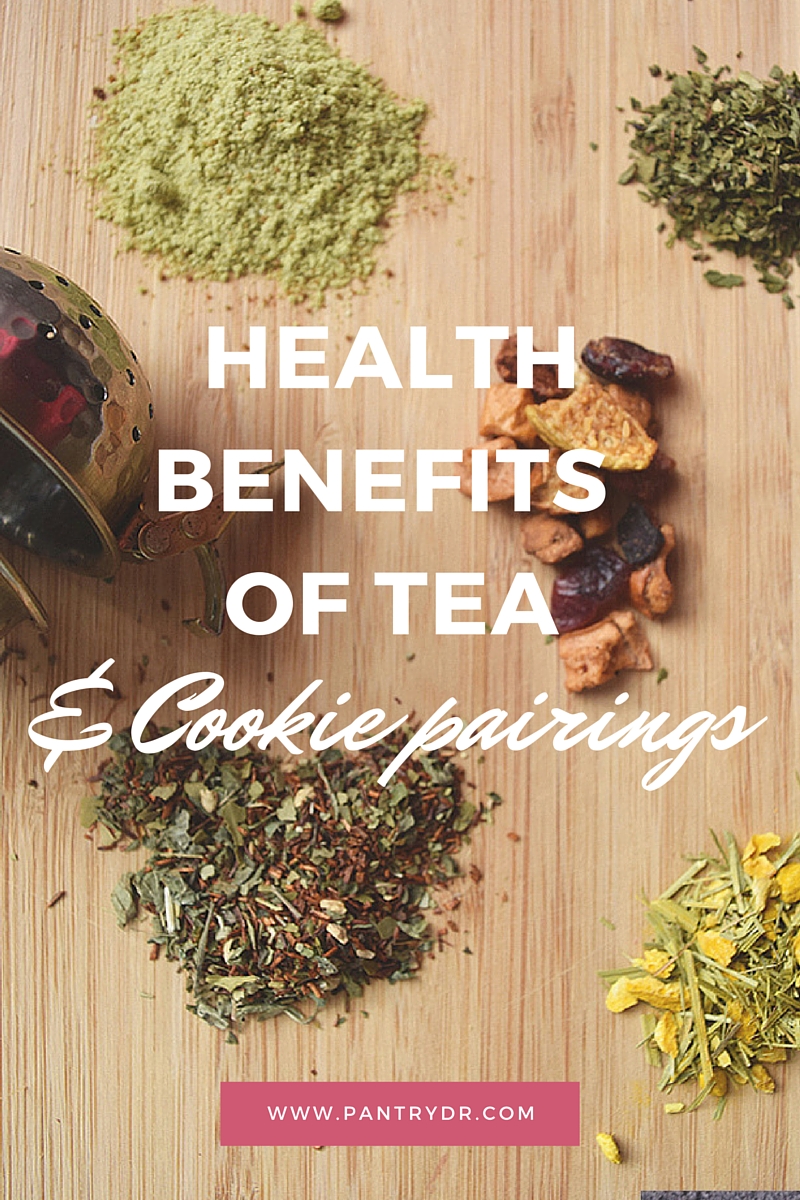 TYPES OF TEA 
MATCHA GREEN TEA
This is my absolute favorite because of its amazing health benefits.  It is filled with chlorophyll and antioxidants! It comes in a powder form and can be used in many different ways.  I love to add it to my overnight oats and smoothies! The thing that makes this one superior is that the entire leaf is ground up into a powder.  When ingested you are getting all of the nutrition from the leaves instead of just sipping the leaf "juice".
GREEN TEA
These teas are very popular in Asian cultures.  They have a more delicate flavor because they stop the oxidation process by heating the leaves as soon as they are picked.  This tea is caffeinated as well unless stated otherwise.  Some green teas can have an earthy, grassy flavor so I like to add raw, local honey to them to cut the bitterness.  Only brew these types of tea until they are just starting to steam and steep for 2 minutes.
OOLONG
These are only partially oxidized so they don't have a lot of color when brewed, but different versions can be darker than others.  These have the most complex flavor profiles.  These teas can be many different flavors ranging from sweet to earthy to floral or spicy. Brew to just steaming for 3-6 minutes depending on darkness of the tea.
BLACK TEA 
Black tea is one of the most popular teas in North America and around the world.  It is generally strong in flavor because of the process by which it is made.  The leaves are rolled and bruised, causing rapid oxidation. Oxidation is the browning that happens when you leave a chopped avocado or apple exposed to the air.  Black tea does contain caffeine so if you are limiting this I would suggest an herbal or decaffeinated tea. My favorite is an earl grey tea latte with lavender and honey, sometimes called a London Fog. Here is a great recipe.  Brew it to near boiling water and steep it 2-4 minutes.
WHITE TEA
White teas are the least oxidized which is what makes them so light in color when brewed.  They have very light, delicate flavors as well. These teas are very high in antioxidants and can tend to be the most expensive.  Brew these with hot water for 4-5 minutes.
HERBAL TEA
Herbal "teas" are in their own category, because they are herbs, spices, or flowers that are combined with a type of tea.  These are great for those starting to drink tea because they might have fruity, sweet, or spicy flavors that most are familiar with. Brew to near boiling water and steep for 4-15 minutes. Don't underestimate these teas! They can be very powerful.

I love supporting local businesses with these little experiments such as pairing the perfect teas with these cookies so I headed down to the Spice and Tea Exchange of Greenville to see what types of tea would pair best with these amazing tea cookies from Carolina Girl Cooks!
LAVENDER
You know that refreshing, crisp "AHHHH" moment you get when you take a sip of the perfect tea? That is what I got when I took a bite of these lavender cookies paired with the Mint-Chilla Chai-Nilla Tea.  It is rich and smooth with a minty twist.  And the tea cookies? Watch out…it is hard not to scarf the entire tin.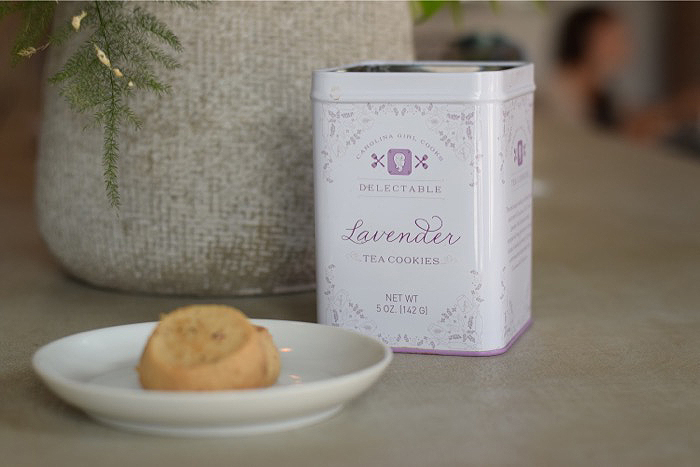 ORANGE CARDAMOM
Oh the temples of buttery, citrus shortbread — your vibe is sweet yet sultry.  These would overwhelm a delicate flavored tea so they need one that is more fun and fruity.  I found the perfect one called Bohea Tea.  It is a black tea blend with a light smoky flavor.  It has hints of cinnamon that compliment the orange and cardamom well.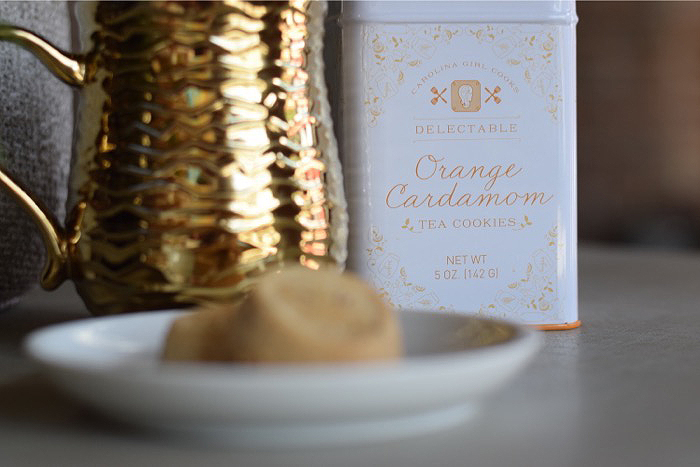 CHOCOLATE CHIP, ROSEMARY & SEA SALT 
Sweet chocolate chips in the inside, and sea salt on the outside. Sign me up! These sweet and salty with a hint of herbal cookies need a light and refreshing tea.  These would be best paired with a simple earl grey, green or white tea.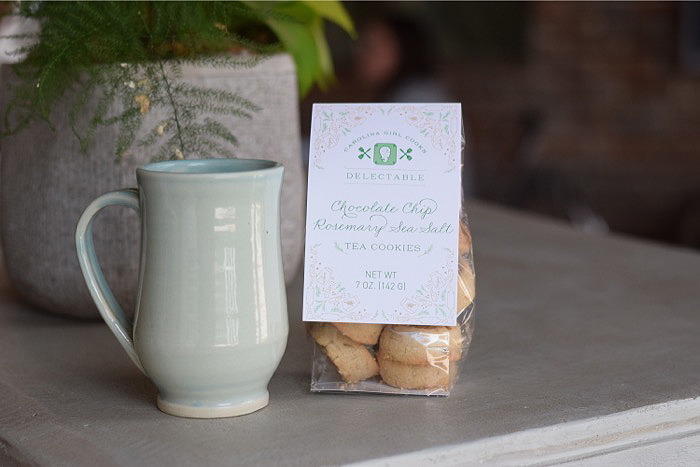 ROSE
This flavor seems so sweet and innocent — until you are alone with them.  These pair best with green teas and this is one of my favorites.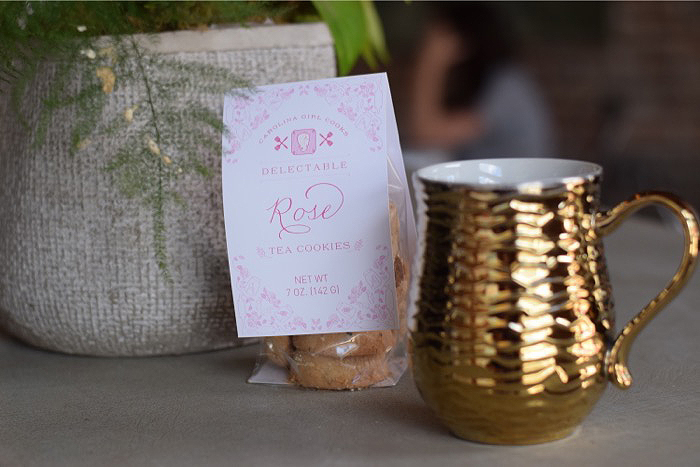 And now for the best part — to receive 15% off your order use the code PAIR15.  I hope you love these little cookies as much as I do with my afternoon tea! Try them out and let me know what you think!
xx, Wendie
Busy? Stressed?
We know the Holidays get crazy. We get it. You barely have time to breathe. So join us for our FREE 5-day holiday stress less challenge and lets do this together! Get your copy and start with us today!