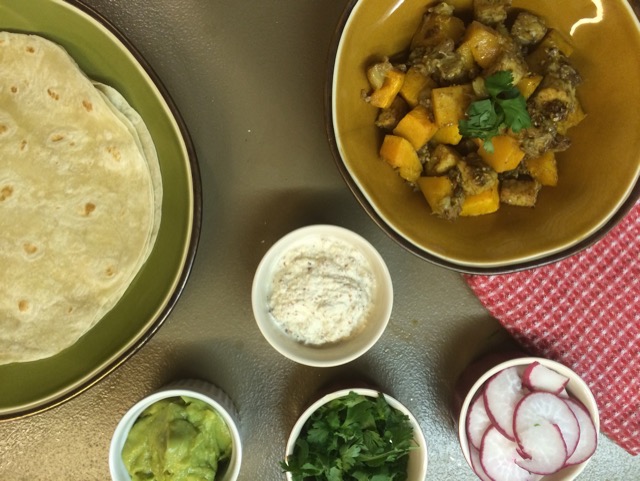 Cinco de Mayo is quickly approaching, and I have one more recipe that you absolutely HAVE to try!! This is my new favorite!  These vegan tacos are my latest obsession!
This week I have shown you some fresh, natural cocktails using fruit and herbs.  Today I am going to show you how to spice up your Meatless Mondays for Taco Tuesday with these vegetarian/vegan friendly roasted butternut squash. eggplant and tempeh tacos!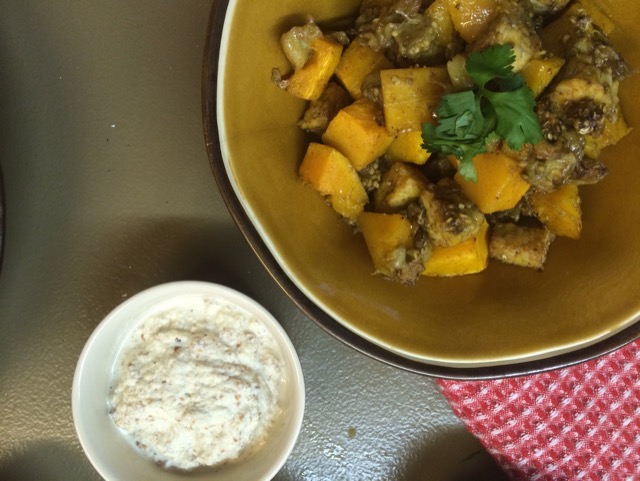 This big batch of roasted eggplant and butternut squash and tempeh will be the base for tacos one night, and would be great doubled up in pasta the next! Get creative and make the most out of this delicious filling! Once you begin thinking of ways to repurpose your meals, it will become easier as you plan your meals for the week.  I try to plan 2-3 dinners during the week and reuse leftovers in different ways.  Ask yourself: What else can I do with this yummy taco filling?  Make it into a soup? Pasta sauce? If you double up on the almond creme this will make a DELISH sauce that is packed with protein and healthy fats.  Use it in a curry? Serve cold over a salad? This can be repurposed into another dinner exercising very little effort.  After all, don't we really need more time to just relax?
 It's Taco Tuesday.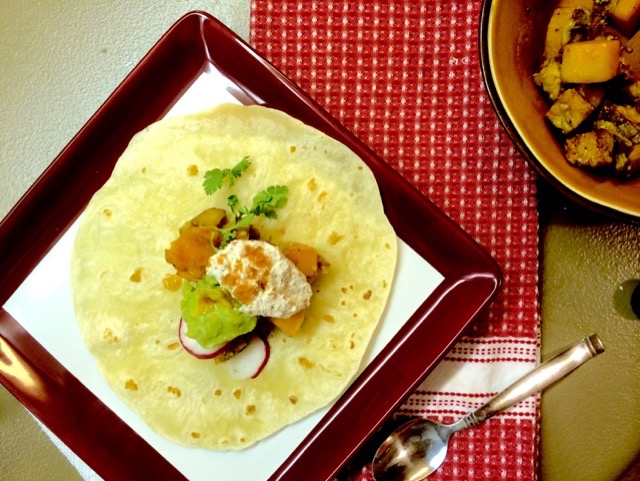 What are some of your favorite taco toppings? Mine are:
fresh cilantro
guacomole
jalepenos
red onion
cabbage
fresh hot sauce
radishes
almond creme (recipe below)
salsa verde
fresh pico de gallo
raw sauerkraut (yes, it is great!)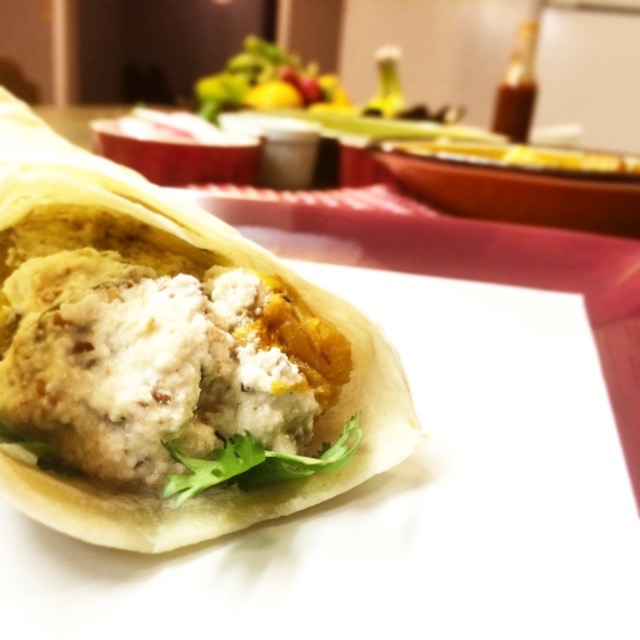 My favorite wraps are these sprouted grain and sprouted corn tortillas.  If you are gluten sensitive or paleo, the filling is great on a huge bed of greens as a salad.  More creative options for wraps include: collard greens and swiss chard which are aplenty right now, romaine or bibb lettuce.
Follow my blog with Bloglovin

Preheat oven to 400 degrees. Put butternut squash and eggplant into a roasting dish and drizzle with olive oil. Bake for 45 minutes or until tender and set aside.

In the meantime, make the smoky almond creme in the food processor. Combine soaked almonds, lemon, olive oil, sea salt, garlic, and smoked paprika until they make a nice creamy sauce. Add more garlic, salt, and pepper as needed.

To serve: warm your favorite tortillas in the oven, then place the roasted veggies inside and top with the almond creme.