Many of you who follow me on Instagram, know that I have been busy lately launching the overnight oats.  Last week they were placed in Hub-City Co-op in Spartanburg and M. Judson Books in downtown Greenville, and we have become a part of the TR farmers market on Saturday mornings so the pace has definitely picked up! I've been working on a new 10-day program to launch in the Fall, and a new flavor of oats with a BIG difference.  All that to say, that leaves little to no time for cooking so I have to say that why the lack of recipes on the blog recently.  So…. I thought I would dig through some old blogs and be even more embarrassed by the horrible pictures I took in 2014.  The recipe, however, was fabulous so I whipped out the photography skills I have adapted over the past couple of years and dusted off this lovely little post  I hope you enjoy it now more than ever! It is a super easy appetizer that takes little to no time, but it looks gourmet.  Cheers!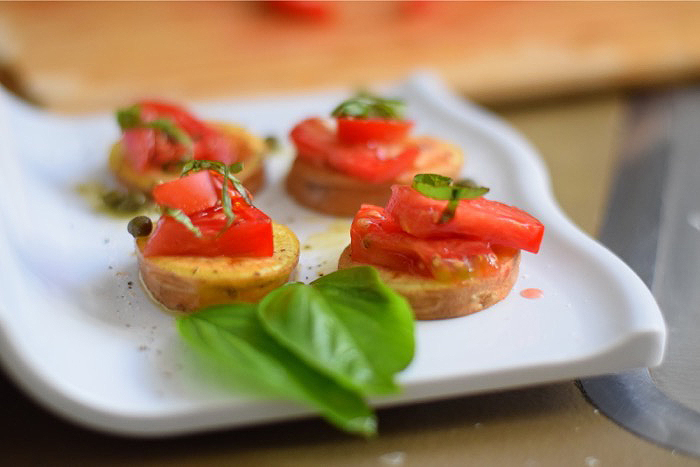 This is a quick blast of summer with local tomatoes, fresh basil, and briny capers.
Sweet Potato Bruschetta.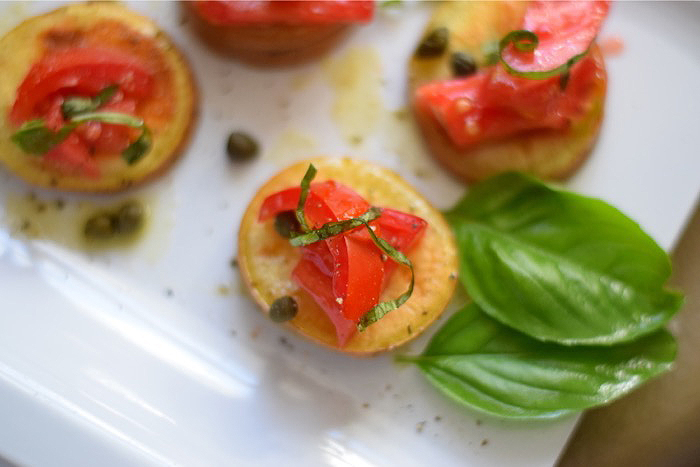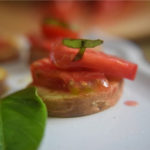 Preheat oven to 450 degrees

Cut sweet potatoes in 1/2 inch coins and put them on a baking sheet

Drizzle with melted coconut oil and bake 10 minutes. Flip potatoes and bake another 5 minutes or until they are soft and each side is browned.

In a small bowl mix diced tomatoes, capers, garlic, olive oil and balsamic vinegar.

Place a spoonful of the tomato mixture on each sweet potato coin so that it resembles bruschetta.

Top with fresh basil, sea salt and pepper. Enjoy!!