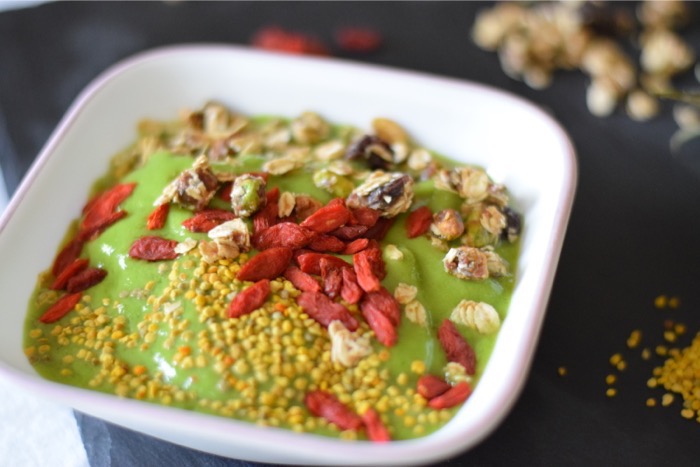 Hiiiii!! Happy Tuesday! How are you all doing? I've been feeling a tiny lil' food baby in my stomach after this weekend.  Saturday was the Euphoria Roast and Toast kickoff and I am super stoked about the lineup this year! Tickets are on sale now! More to come about that later this week….. Sunday, I had a great time biking up the Swamp Rabbit Trail and  enjoyed a beer or two at Swamp Rabbit Brewery before biking back and walking through the park and ending the evening with a burger at Grill Marks.  It was a lovely weekend, and luckily I kept up with my workouts so I don't let it get to me.  Monday rolled around and I was definitely ready to get back to my normal eating habits!
Let's talk more about the diet.  People ask me all the time about belly fat, how to "get ripped", and bloating.  You will see more on that here, here, and here.
This is completely true.  I wish I could tell you Happy Hour or a bottle of wine is okay every night as long as you consume nothing all day ladies but lettuce, but its just not.  I'll just lay it out there.  That is complete BS.  All the ab workouts in the world can't account for every single day because that really is just sugar.  Sugar leads to inflammation.  Inflammation is bloating…and you see where I am going with this? ZERO RIPPED. NO ABS. SORRY. That's why one big reason people see such a change when they drop it for 30 –heck, or even 10 days like my inTENsive program.
So I thought I would talk about one of my greatest food baby cures today —the Post Workout Smoothie Recovery Bowl.  After a weekend like that, it always feels good to get some good nutrition into your system.  I have hundreds of recipes for smoothies, but sometimes you need more than just a smoothie, so here are some ways to amp up that smoothie and make it into a meal that will leave you and your abs satisfied.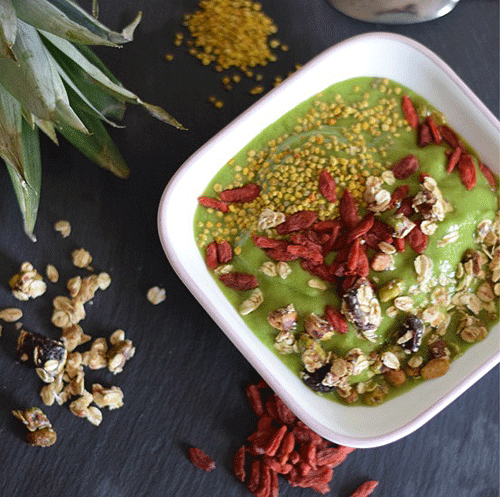 Post Workout Smoothie Recovery Bowl
One Bowl. Endless Possibilities.
Chia pudding can take a backseat for this post because smoothie bowls are the new 10. Smoothie bowls taste like a treat, but they can totally be a meal and you don't feel like a blimp afterwards. These delish bowls are piled high with nuts, granola, and seeds for healthy protein and fats to fill you up.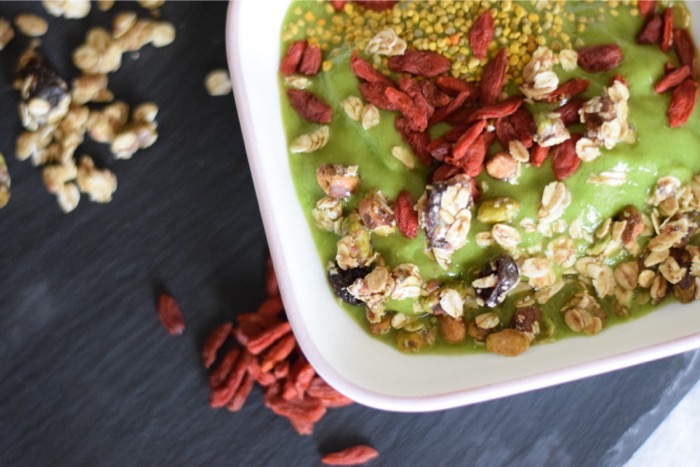 This smoothie bowl is simple and delicious, PLUS it takes about 5 minutes to make! What I love most about smoothie bowls is that you can customize them and use whatever you have in your pantry for toppings.
Here is a basic lineup of ingredients, and you can play around with what you have on hand and come up with your own smoothie bowl! To make it creamy you add things like nut butters or avocado, and to thicken it up, frozen bananas and pineapple. Add lots of nutrient-dense toppings for crunch.
The goal is to take you from snack to substantial meal.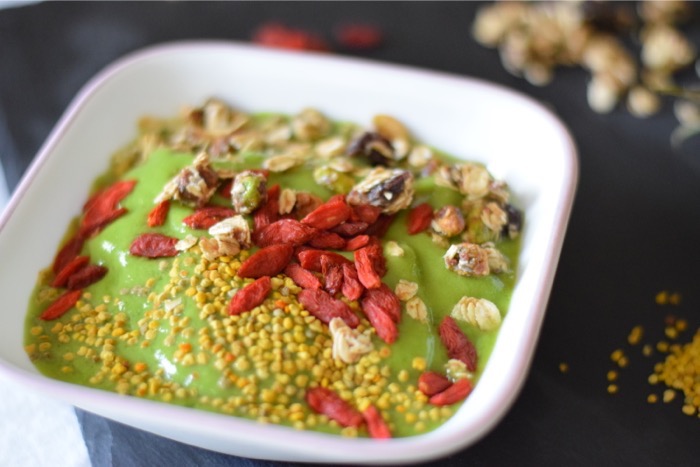 Smoothie Elevated.
My ideal smoothie is: 
BRIGHT GREEN IN COLOR
ALWAYS HAS NUT BUTTER FOR PROTEIN AND HEALTHY FATS
AVOCADO FOR CREAMINESS
FLAX MEAL FOR ADDED FIBER
FROZEN BANANA OR PINEAPPLES FOR THICKNESS AND FLAVOR
My favorite toppings include: 
PUMPKIN SEEDS | SUNFLOWER SEEDS
GRANOLA
UNSWEETENED COCONUT
FRESH BERRIES | MANGO
GOJI BERRIES
CACAO NIBS
HEMP SEEDS
I also love local bee pollen and crumbled up coconut butter.  Think Big – like I said, the possibilities are endless!  Make it your own. Have fun and Experiment!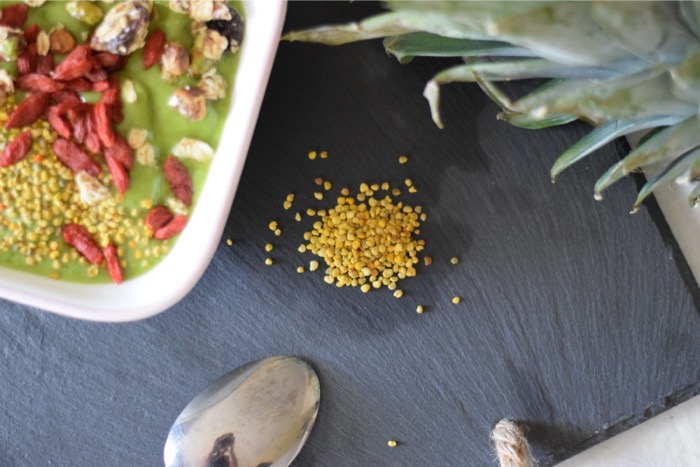 If you give smoothie bowls a try, don't forget to leave a comment below and share using #dailydoseofgreens on Instagram for a chance to be featured! Meanwhile, if you want those abs GO GET 'EM! All it takes is staying consistent with diet and exercise.  The more consistent you are with good nutrition and exercise, the more results you will see. Its no lie that abs are made in the kitchen! Alcohol is ok – enjoy life's moments, but remember that it has an effect and enjoy it in moderation!
xo, Wendie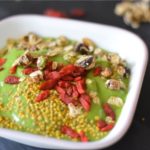 Custom Smoothie Bowl packed with nutrition for a great post workout recovery meal!
Add all smoothie ingredients to a blender, and blend until smooth.

Divide between two bowls, or save half for later!