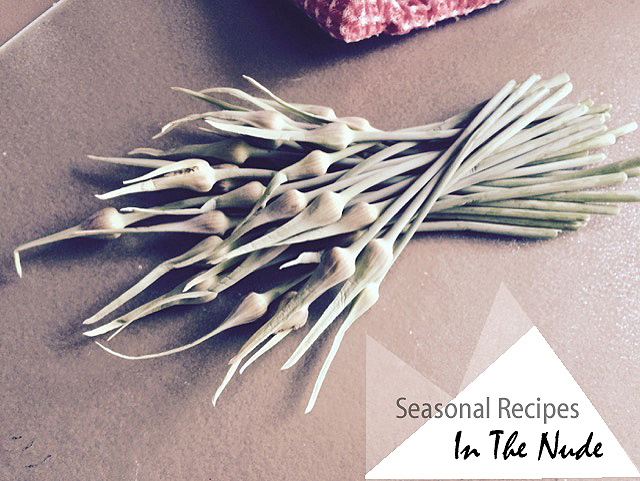 With every In the Nude post, I'll be breaking down the walls of intimidation that separate us from the plants we should be eating and enjoying without preparing them to the point that we rob them of their natural properties and benefits. The poster child for this month's "In the Nude" is the garlic scape. No rolling it in batter, deep frying it, or drowning it in a creamed soup or casserole. Here you'll find garlic scapes.
Simply Nude.
If you aren't eating these little green curly cues right now, then you aren't eating seasonally! #inthenude #scapes

— Pantry Doctor (@PantryDoctor) May 11, 2015
Let's learn to eat in the moment this month.  The garlic scape is part of the garlic family. It comes from the flower stalk that grows from the garlic bulb. It kind of looks like a green onion or a chive. Grilled garlic scapes can be eaten from head to tail, so there is no waste! They taste full of garlicky yumminess, and the texture is similar to that of asparagus.
The Quick and Dirty.
They may increase oxygen levels in the blood.
They are high in antioxidants, especially glutathione (a powerful immune booster), which protects the body from viruses and bacteria.
They protect the liver and kidney from oxidative stress. Since our liver is basically our body's garbage dumpster, this is an important nutrient for our liver and kidneys!
NOW IS THE TIME.
They have a very short stint at the farmers market, and RIGHT NOW is the time for scapes in the South.  I've only recently discovered the scape myself, and it is so versatile and flavorful that I have decided to make it my personal mission to spread the gospel far and wide — to more or less tell it on the mountain (er, foothills) about this wonderful veggie!
Now, if you will excuse me, I am picking my scapes up for a hot date with my grill out back.  Stay tuned for more hot, juicy details and recipes for the scape. The scape can be nude, but please keep your pants on!
For other seasonal recipes IN THE NUDE:
Follow my blog with BloglovinYum
Toss garlic scapes in olive oil and season with salt and pepper.

When charred, remove from grill and serve hot!