One of my favorite ways to get in my #dailydoseofgreens is from smoothie bowls!
This delicious, creamy smoothie bowl recipe is loaded with nutrients including tons of B vitamins, vitamin C, vitamin K, vitamin A, magnesium, potassium, and iron.  The sugar in this smoothie bowl is completely natural and comes from the fruit.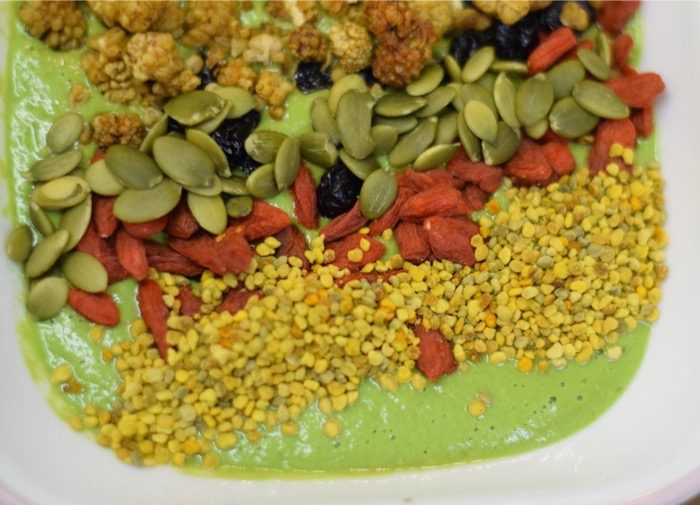 The reason I love smoothie bowls so much is that they are so fun to play around with and they really do make it super easy to get in your fruits and vegetables.  I love to top them with my favorite superfoods and granola.  The crispy texture of the pumpkin seeds, bee pollen, and the chewiness of the goji berries satisfy my cravings for crunch.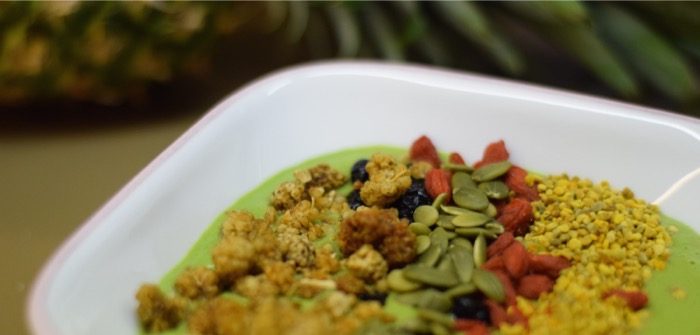 I concocted this recipe earlier this year when I was coming up with 50 different smoothie recipes for my ebook.  I had some mango, pineapple, and bananas that were ripe, and an avocado that I needed to use to balance it out.
When I am craving something salty, one of my favorite things to do if swirl nut butter in.  My favorite is found locally and it is the same nut butter I used in these peanut butter protein bites.
The garnish of turkish mulberries, pumpkin seeds, dried blueberries, goji berries, and bee pollen added extra nutrition and alot  of healthy fats and crunch!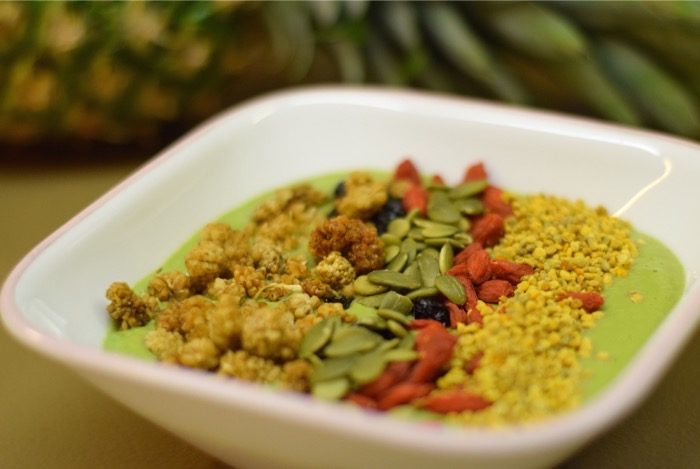 Sweet, salty, creamy, smooth, crunchy, cold and satisfying for summer! This bowl of color with a boatload of vitamins and flavor will be my go-to bowl for many meals to come! (I've made this particular smoothie bowl over 10 times since I wrote the ebook!).
Have you downloaded my free copy? I'd love to hear about your favorite toppings in the comments below and download your free copy – a mini version of 50 shades of green with 5 green smoothie recipes and smoothie how-to's.  xx, Wendie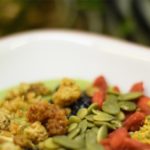 Servings

Prep Time

2

servings

2

minutes
Servings

Prep Time

2

servings

2

minutes
Add the coconut water first.

Add fruit and greens. Blend with coconut water.

Add frozen ingredients and re-blend.
Get your free 5 days of Green Smoothies from 50 shades of green! Click here to download your copy.