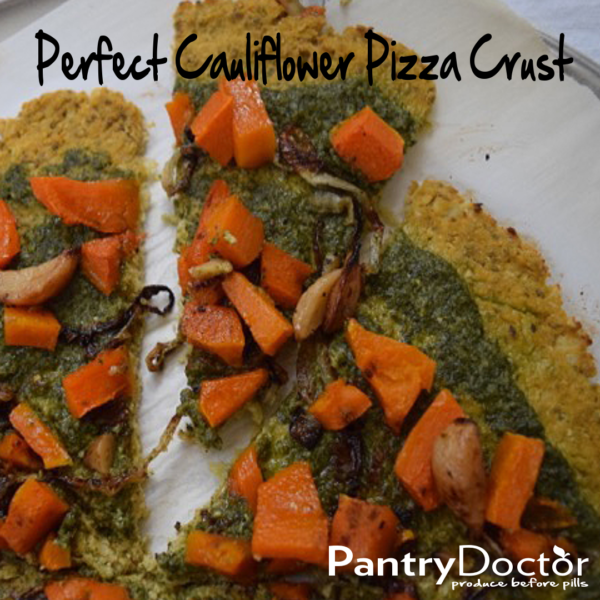 Hi friends! Happy Tuesday! What are you up to this morning? I made a pizza with a cauliflower crust for a client and posted it on Instagram a couple of weeks ago. I received a lot of comments on how I perfected the cauliflower crust.  Since it is National Pizza Month I figured, why not share it now? So, I am excited to share my recipe with you today! I have some crazy love for all things fall so I bring not only the grain-free crust, but also my favorite fall toppings!
The Best Cauliflower Pizza Crust Recipe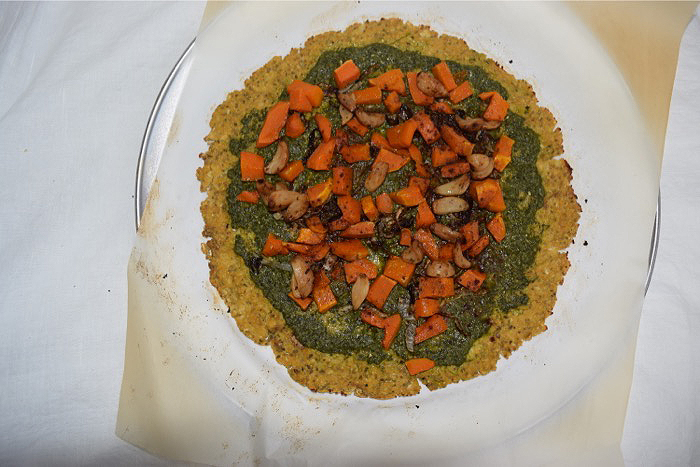 Now, I absolutely love anything with pesto in it, and I had a whole butternut squash on my counter dying to be used, so this pizza idea was too good to resist! For some folks, the crust is the best part so it took a lot of time and many kitchen mishaps perfecting this cauliflower pizza crust recipe.  This pizza crust is also vegetarian and paleo-friendly.
You will have to keep an open mind because if you think this will taste just like real crust — it doesn't.  It is lighter and has a wonderful flavor. It is a bit fragile, but it won't leave you feeling like you need to roll over and take a nap afterwards.
Because this crust is pre-baked, you will want to roast the butternut squash and prepare the veggies ahead of time.  The pesto sauce is so yummy and it goes perfectly with the butternut squash. Enjoy!
I would also encourage you to be creative and try different seasonal toppings and sauces.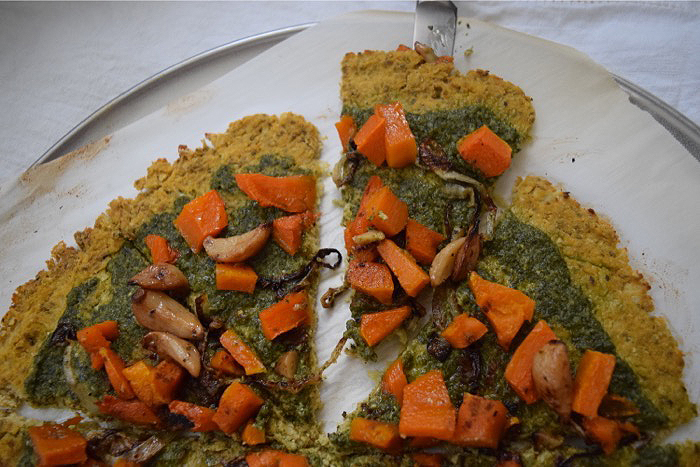 Toppings:
For this one I used pesto because it didn't overpower the flavors of the butternut squash.  Other toppings include: marinara sauce, olive oil and garlic, white sauce, roasted red pepper sauce, etc.
Veggies: 
Any and all! For this recipe I sautéed butternut squash and caramelized onions (onions cooked in olive oil on low for 45 minutes). Others might include peppers, mushrooms, tomatoes, onions, etc.
I love topping my pizzas with greens right out of the oven and drizzling them with olive oil and balsamic vinegar.  Some great greens to try are micro greens, arugula, mixed greens, etc.
Proteins: 
Quality meats, farm fresh egg, tempeh, beans, hemp seed, nutritional yeast (great sub for cheese), and cheeses.
Fruits:
Pineapples, apples, peaches, pears, sun dried tomatoes, and avocado.
Extras: 
Fresh or roasted garlic, red pepper flakes, green onion, fresh basil, etc.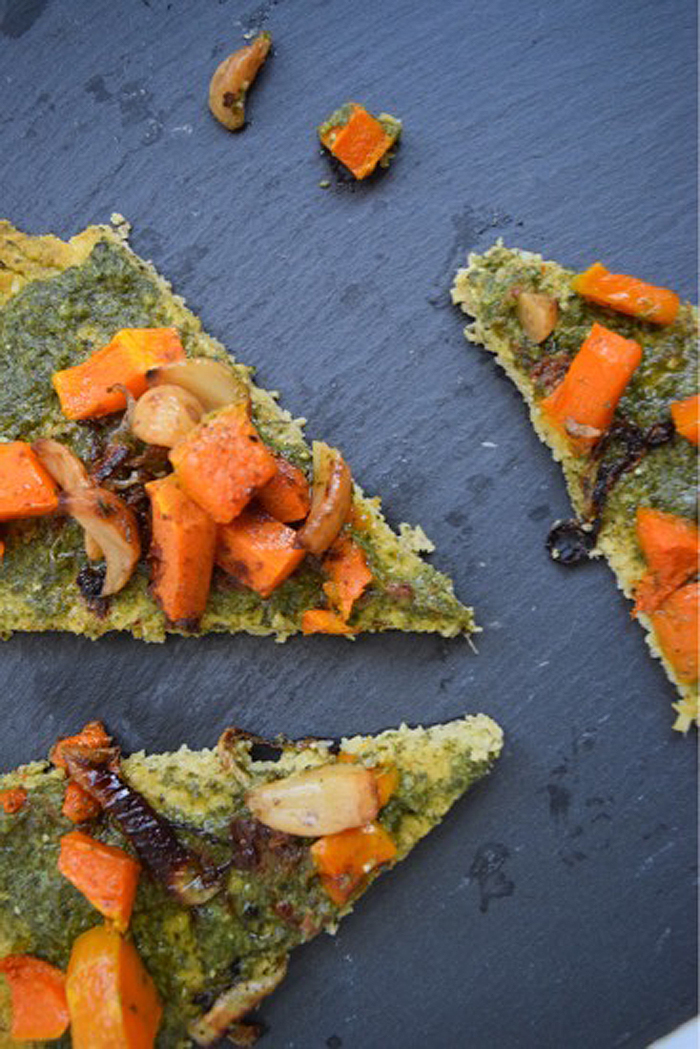 How to Make Cauliflower Pizza Crust 
Pizza crust for everyone with all the Flavors of Fall!

— Pantry Doctor (@PantryDoctor) October 11, 2015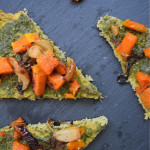 Gluten-Free, Grain-free, Dairy-free, Vegetarian
Servings

Prep Time

2

20

mins
Servings

Prep Time

2

20

mins
Preheat the oven to 450 degrees.

Chop all of the cauliflower up into small pieces and puree in a blender. It doesn't have to be completely smooth at this point.

Steam the cauliflower for 5 minutes or until it is soft and puree a second time. You can make it completely smooth, or leave it a little chunky -- whatever you prefer.

This step is very important! Place cauliflower into cheesecloth in a large bowl or a strainer. Use paper towels to press out all of the water until the moisture is gone. It is very important to squeeze out all of the excess moisture. I usually squeeze out 1/3-1/2 a cup!

Discard the liquid. You should have a firm cauliflower puree.

Combine the remaining ingredients with the cauliflower puree.

Place parchment paper on your pizza stone or sheet and grease with a little olive oil. Spread the dough on parchment paper. This is another very important step because the parchment paper will soak up any excess moisture.

If you press the dough out too thin it will tear. Try to roll it at least 1/2 inch or thicker if you prefer a thick crust.

Bake at 450 degrees for 8-15 minutes (depending on thickness) or until the top is golden brown.

Remove from the oven and load it with your favorite sauce and toppings.

Return to the oven for 8-12 more minutes or until the toppings are warm.
Notes:
For a crispy crust, turn the pizza crust halfway through so that it gets crispy on both sides, but be very careful when flipping.
For a thick crust, it might take a little longer to bake.
Toppings: Some toppings might increase baking times.