So what does a dietitian really eat?
My friends that know me well are not surprised by how much or what I eat. It is kind of amazing seeing faces and hearing: "What? You're going to eat all those carbs?" and "But, wait. You aren't a vegetarian?"
Pantry Doctor Confessions was inspired by all the frequently asked questions that I get regarding what I eat on a daily basis.  I love food, and I love to eat.  I am always experimenting with ways to make eating healthy, convenient, quick and TASTE great, while still exercising moderation. I am constantly experimenting with products, ingredients, and methods of preparing and preserving food.
While I have never let myself get the the point of "OMG, I need to eat everything in front of me," I realize that we all have moments of weakness. Think of it how you wish: 80/20, moderation, but I like to call it having my "non-negotiables." I do try to plan my meals as much as possible ahead of time and take an hour or two out on the weekend to prep for the week.  This makes game-time decisions with my meals SO much easier.
Friends and strangers always ask me about my eating habits and what foods I choose. I tend to eat as many nutrient-dense, whole, local foods as possible while limiting sugars, processed foods, and inflammatory ingredients. That being said, I am normal just like all of you and have the same temptations.  Yes, I break down sometimes and have peanut M&Ms or an extra glass of vino. Depriving yourself can be just as disastrous, so I like to keep it to a happy medium, enjoying things sometimes and not beating myself up. So here you have it.  A glimpse into my world for three days.  My 3-day food dairy: AT THE BEACH.
Day 1
I love breakfast.  So much so that I plan it most of the time so I have something healthy to wake up to and start my day.
7 am: Post Pure Barre Smoothie this morning before work included three handfuls of spinach, half a cucumber, half a papaya, a small piece of ginger and water.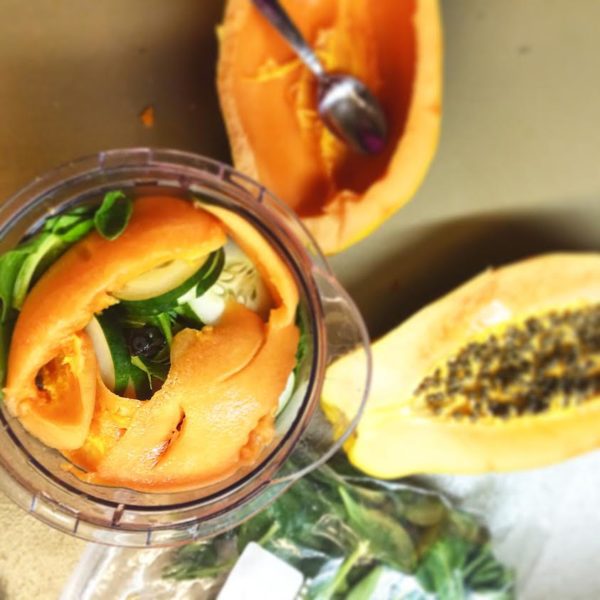 12:00 pm: I went out with friends and we ended up at a biker bar. Not my typical choice for lunch, but most of the group were men, so I had to go with the flow on this one. I chose the healthiest option I could find on the menu.  Chicken Salad with Grilled Wings in their Spicy Ranch Sauce.  The sauce might have not been the best, but I traded fried for grilled and chose the salad.  😀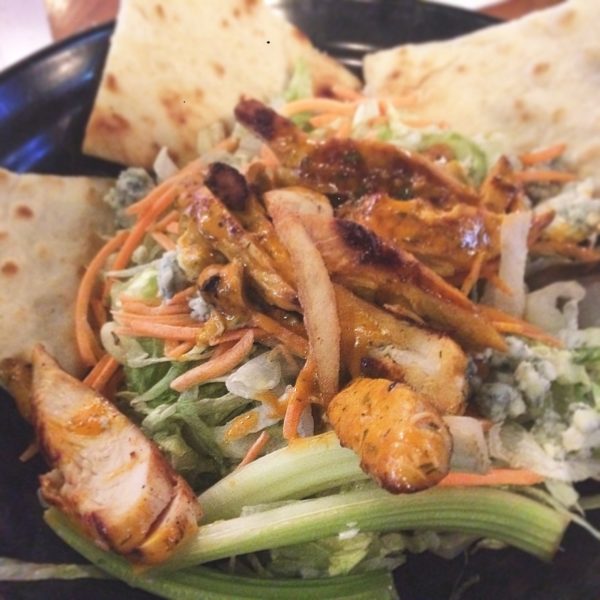 7:30 pm: Avocado adds a healthy punch to the usual mayo-laden tuna fish.  I had mine on whole wheat sprouted grain Ezekiel English muffin accompanied by green tea.
9:00 pm: Apple and almond butter. This is a quick easy snack.  You get all the benefits of the fruit, plus some healthy fats and protein.
Day 2
Today was the first day of a weekend on the beach. Vacation time! Also, I WILL EXERCISE FOR FOOD!
8:45 am: First day on the beach, and I had an English muffin with peanut butter and strawberry jelly, and coffee.
After the morning pick-me-up, we went out for a run and came across a workout trail.  The run was probably two miles. Deciding to switch things up, we did walking lunges between the stations.
12:00 pm: Lunch was at Provision Company on Holden Beach.  It was boiled shrimp and a Landshark. I also had a bite of the most fabulous shrimp burger I have ever had in my life.  Well, now that I think of it, I have never had a shrimp burger.  Boiled shrimp are a great option if you are at a seafood place because they are roughly 7 calories a shrimp, so eat up!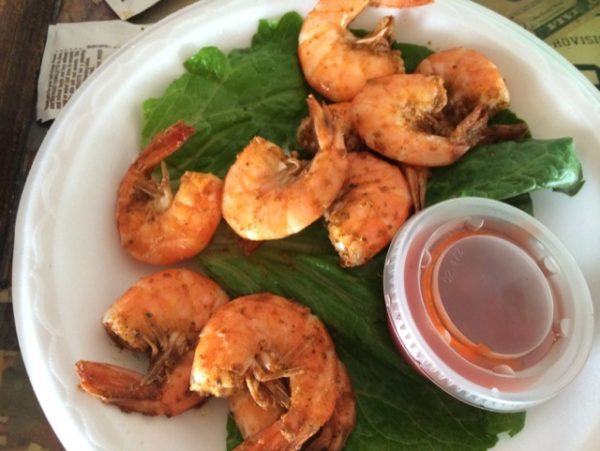 7:00 pm: Back at the scene of the crime, Provision Company, I had a house salad with grilled grouper.  There were side items for the table so I indulged in some. Onion rings? You have onion rings? How can that be healthy? I had 2 FAB onion rings, a couple bites of cole slaw, and some more boiled shrimp.  Oh, AND a glass of wine 🙂


There is no harm in splurging on foods when you are out on vacation.  If you have a couple of bites of things you enjoy you won't resent yourself and can move on. This keeps you from consuming large portions and feeling sick and disgusted with yourself afterwards. By the way, the grouper was DELISH.
Day 3
9:30 am: Crab Cake Benedict with avocado, home fries and coffee. Huge portions here, so I ate half and took the rest back and shared with my friend.
12:00 pm: a few almond M&Ms. Like 3, if you want me to be exact.
2:00 pm: 3 tangerines
4:00 pm: – Jersey Girls Sub  I ate half and gave the other half away.  Portion control!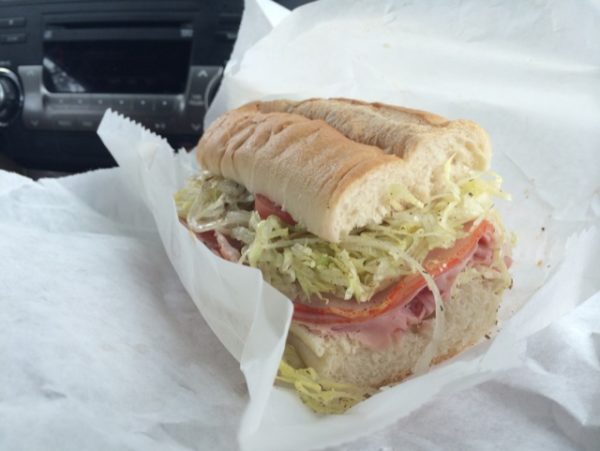 Enjoy vacations for what they are: a trip, a special occasion, fun times with friends — knowing you will eat well 90% of the time.
After the long weekend, I couldn't wait to get back on track.  Sometimes we need a little weekend adventure and a few minutes of trying on new bikinis to realize we are ready to hop right back into a new week on track. I stopped at the grocery on the way home and filled up on fruits and veggies and planned my breakfasts for the week in smoothies.
I hope this shed a little light on my weekend and what a dietitian really eats. Yes, I do have cravings. Yes, I do eat regular food. Yes, I do have treats.
How will you start your week? [sc:apple]
Follow my blog with Bloglovin
Busy? Stressed?
We know the Holidays get crazy. We get it. You barely have time to breathe. So join us for our FREE 5-day holiday stress less challenge and lets do this together! Get your copy and start with us today!