This shop has been compensated by Collective Bias, Inc. and its advertiser. All opinions are mine alone. #thetalkofthetable #CollectiveBias The following content is intended for readers who are 21 or older.
At just about any of our Holiday Gatherings you can find some sort of pasta dish.  Its tradition for us.  Being a non-diet dietitian, I feel that there is always room for the things you love to eat in your life so the Holidays would not be complete without one of my favorite Holiday pasta recipes!
So raise your hand if you love pasta!!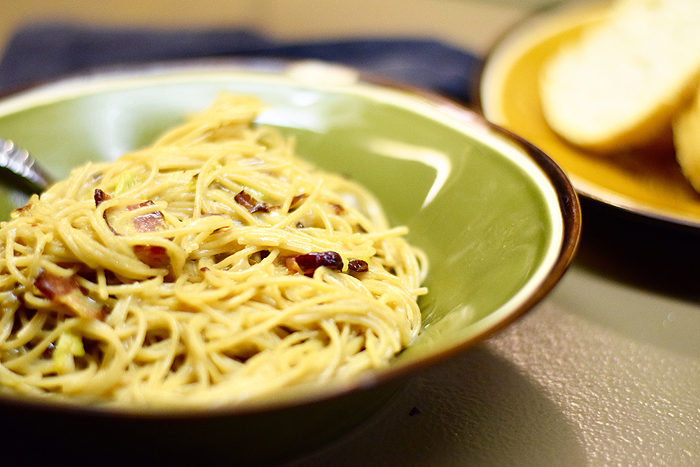 In this recipe, I used Barilla whole wheat thin spaghetti because it was a perfect compliment to the light sauce of leeks and bacon.  Its a brand I trust and it tastes great.  The whole grain version is high quality and it tastes simple and wholesome.
I think its safe to say that bacon makes its fair share of visits to my kitchen.  Yes, real bacon.  Its been awhile since this post (and the pictures prove it) but here is my take on everything that is non-bacon.   And if you want to know how I really eat, go ahead..check it out here.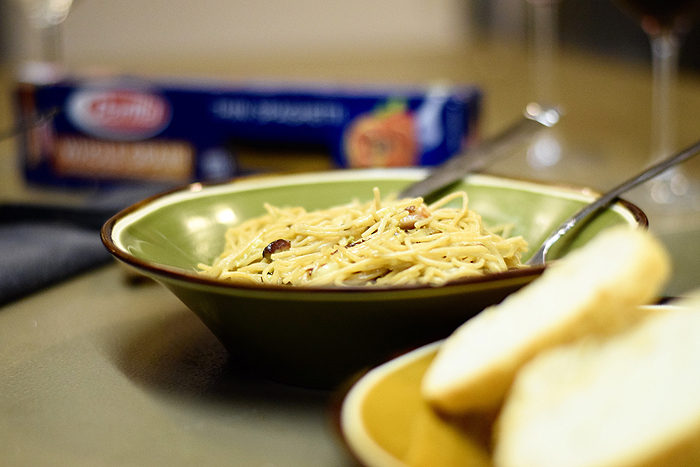 This dish is simple, wholesome and hearty.  Leeks + Bacon + egg yolks + parmesan cheese.
So if you happen to be looking for a tried-and-true pasta dish for the Holidays, I thought I would share this easy pasta dish with you. Rest assured that this will be happening in my kitchen again next week when my parents come to town, and probably the next. And the next. 
   Check out more fun holiday recipes here and here!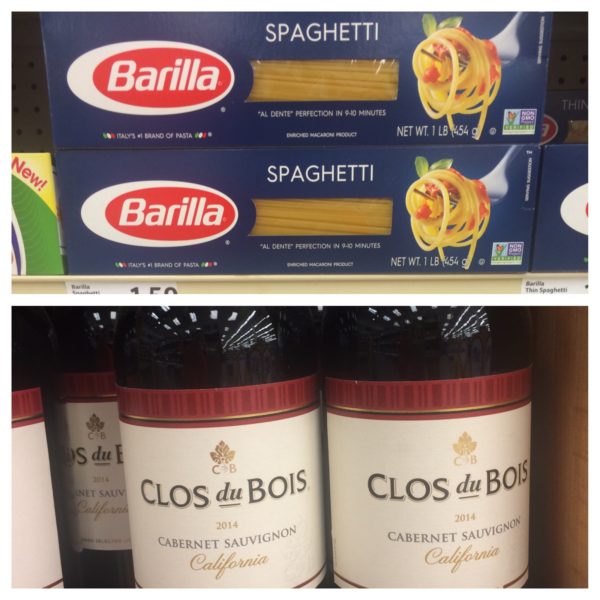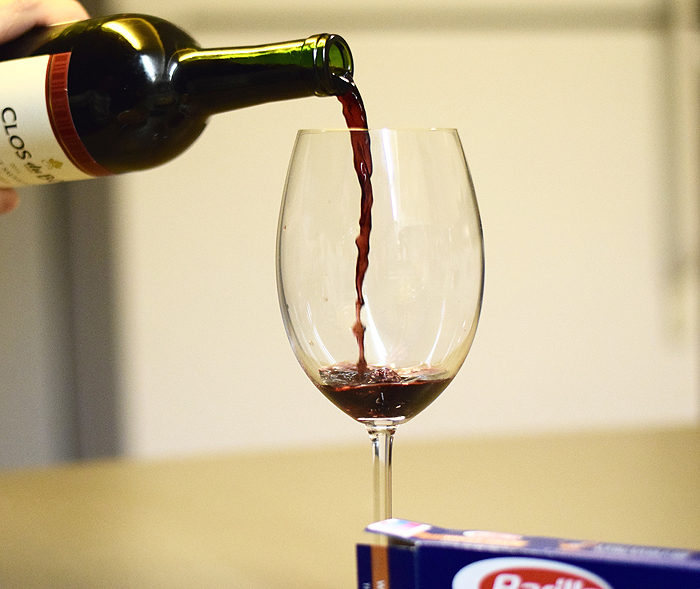 I paired it with my favorite Clos du Bois Cabernet because of its well-balanced, intense, fruitiness balanced with oak.  The lightness of this dish needed a bold flavor of a Cabernet Sauvignon to balance it out. Cheers!
xx,
Wendie
Pasta recipe – Carbonara with Leeks and Bacon + wine pairing
Ingredients
1 pound whole wheat penne pasta
8 slices of bacon, chopped
2 leeks thinly sliced
4 large egg yolks
1 cup grated parmesan cheese
S&P to taste
REd pepper flakes (optional)
Instructions
Heat a pot of water on high heat on the stove for the pasta.
Thinly slice the leeks.
Chop the bacon and cook in a large skillet over medium heat until it is crisp.
Cook the pasta according to the package directions.
Add the sliced leeks to the bacon. Cook 3-4 minutes or until they have softened.
Whisk eggs and red pepper flakes together (if desired) in a bowl.
Once the pasta is finished, drain and reserve 1 cup of the water.
Toss the pasta and 1 cup of water immediately with the leeks and bacon.
Add the egg mixture and mix in over low heat until it is combined.
The egg mixture will make it creamy.
Add the cheese a little at a time, stirring until it is combined.
Season with salt and pepper and enjoy!
Suggested wine pairing- Clos du Bois Cabernet Sauvignon
https://pantrydr.com/my-favorite-holiday-pasta-recipes/
Your Free 5-day Experience
Lets make this simple. So simple that you can do this in minutes --and it actually tastes good!
Enter your email address to learn more.