As we go through our Monday morning routine of coffee, getting the kids off to school, fitting in a run or workout, or making it to work on time, do we ever think about whether or not we have been an inspiration to others?
Who are you inspiring? Who are you inspired by? I am inspired by chefs, dishes from restaurants, other food and health blogs, and did I mention food? I guess that is why I became a dietitian.  I love everything about food, how it assimilates the nutrients in our body for energy,  and where food comes from.  I first became inspired by La Farm Bakery when I attended the very first Competition Dining Event.  The first bite of their bread at our table had me hooked, and I had it on my radar to visit and meet the baker.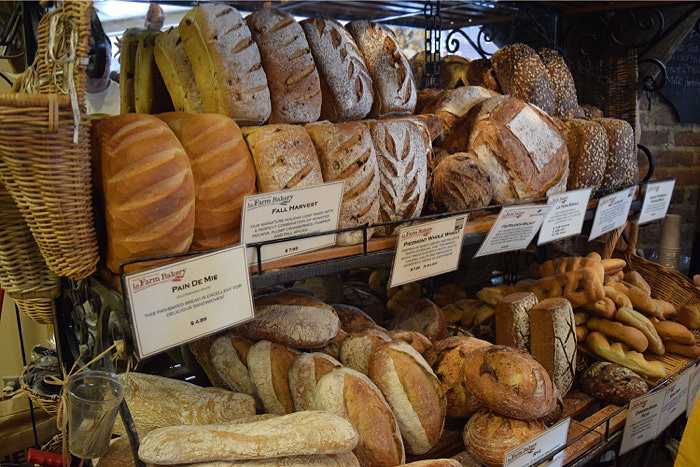 I met Lionel Vatinet, creator of La Farm Bakery, at Euphoria earlier this year and we had a great discussion about gluten, sourcing grains, and knowing where your food comes from.  More on that in a couple of weeks, but for now let me tell you more about the man and business behind the bread and someone that inspires me!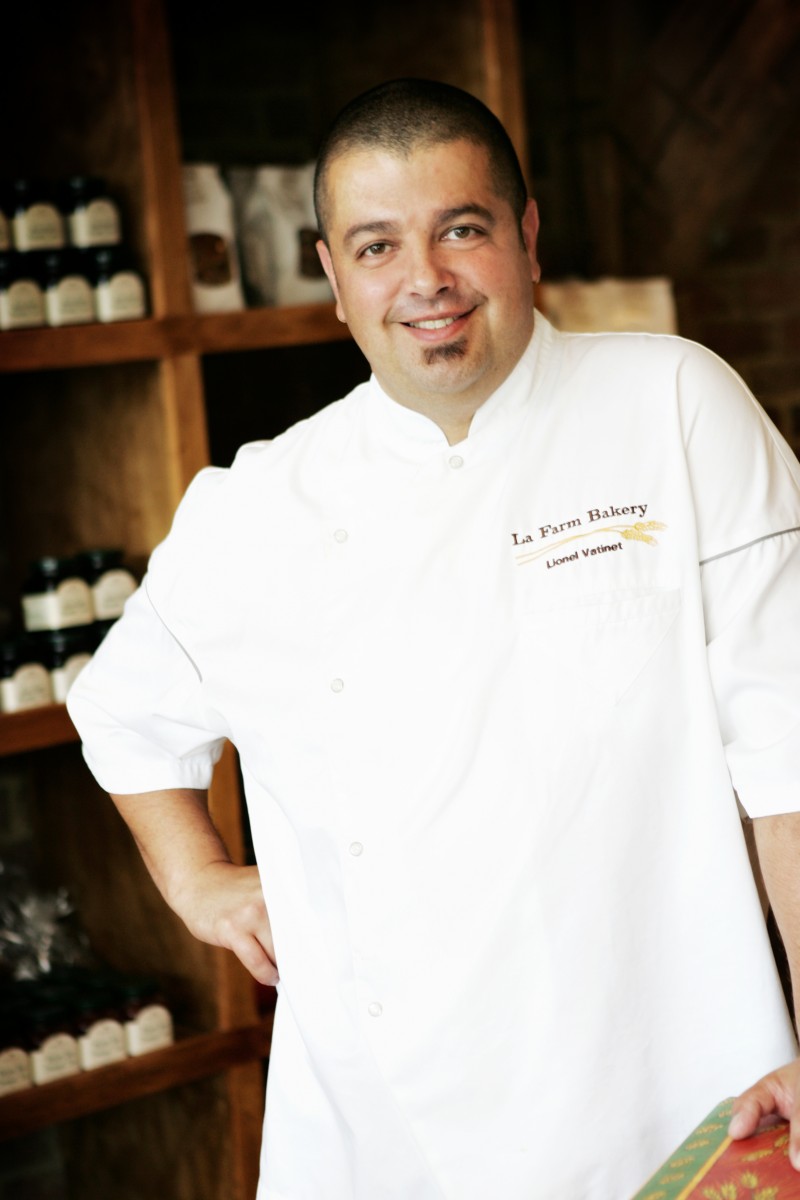 photo via La Farm Bakery
Lionel Vatinet was recognized by the James Beard Foundation this year as a semifinalist for "Outstanding Baker" in 2015. He has been baking artisinal breads for the past 25 years, consulting for well-known brands, and operating La Farm in Cary, NC.
When he was 16, he joined France's prestigious artisan's guild, Les Compagnons du Devoir.  He apprenticed under many European bakers before he earned the title "Maitre Boulanger" meaning Master Baker.
I had the pleasure of learning more about this bread when I traveled to Raleigh, NC for the final battle of the Competition Dining Series.  I made it a point to stop in and was excited to sit down and chat with the manager, Gary Canfield over a latte.  Thank you, Gary for giving me so much information about La Farm bakery, a tour, and sending me home with some fabulous bread! I cannot WAIT to share this today with you all, especially with the Holidays right around the corner.
---
One of the important topics for the PD blog this coming year will be sourcing.  Tell me more about how you source your ingredients. We really make an effort to source our grains as locally as possible.  Right now we are getting all of our wheat and rye flour from right down the road in Southern Pines.  From there it goes to Asheville to be stone ground by Carolina Ground.  There are a couple of states that are really embracing heirloom grains and getting away from the mass-produced, enriched products you see on the grocery store shelves.
I have only tried the white chocolate baguette.  I remember tasting it the very first chef battle at Competition Dining.  I was like "what- is in that bread?".  4 ingredients.  It is the perfect baguette.  High-quality white chocolate chips go into it.  It's beauty and simplicity.  There is nothing complicated about it.  People have dreams about it and travel from Virginia to come to the bakery for this.  They spend their entire day off to come here and bring our bread back home to their families.
How can people in South Carolina get your bread? They can order online. There are no preservatives in our bread, so the minute it comes out we wrap it really well, and inevitably it needs to be shipped overnight. When it is received, it needs to be consumed or frozen.  The sourdough loaves have a complex, 2-day process to form them, and the acidity allows them to be holdable for the second day. We do ship all over the country, but there is a cost because we ship overnight.
So the crowd hasn't really slowed since I came in.  Is it this busy all-day everyday? Wait till you see our Sunday brunch.  People tend to show up 30-40 at a time.  It comes in waves, and we get one bus out then another arrives.
You have been featured in Food and Wine, right? We have an amazing product with local ingredients, and we manage to get into a lot of magazines and on television.
How did La Farm Bakery get its start? We started as a bakery, then 6-7 years ago we opened the cafe.  When we opened up the cafe, our #1 commitment was that it would always be about the bread. We are never going to do bread for the cafe, it will be cafe items to highlight the bread.
---
 Lionel Vatinet is best known for his sourdough bread.  La Farm's signature boule is 5 pounds with an intense flavor.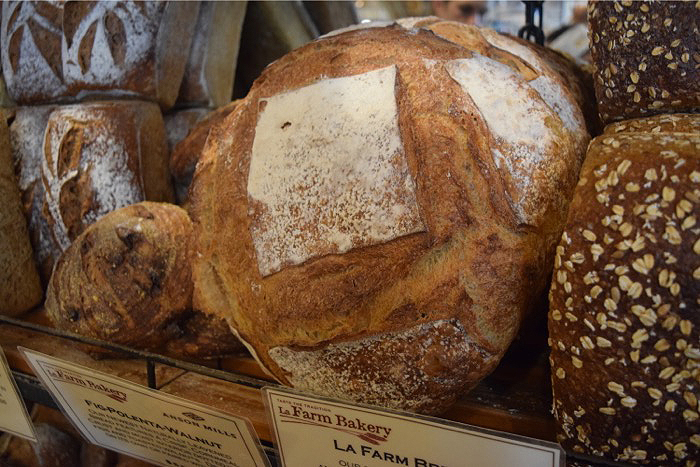 One of the next cookbooks that I can't wait to add to my collection is his "A Passion for Bread".  I am no baker, but I will give it a try and if I don't succeed I will have another beautiful book to page through while I wait for my express-shipped white chocolate baguette.
I cannot close out this blog without singing praise for the pumpkin challah loaf that Gary sent me home with.  I froze it and pulled it out on the perfect Saturday morning to make French toast.  Order this before the Holidays are over, or it is worth the drive up! Trust me! If you dare, drive up and learn how to make your own pumpkin challah! On Friday December 11th, Lionel is teaching a class on how to make these homemade sweet treats for the Holidays!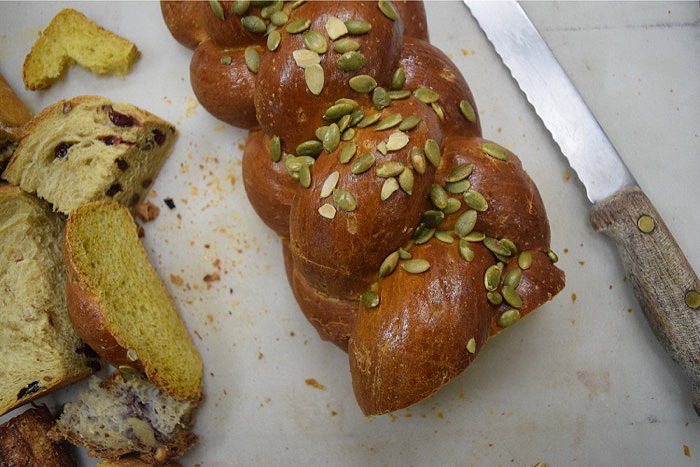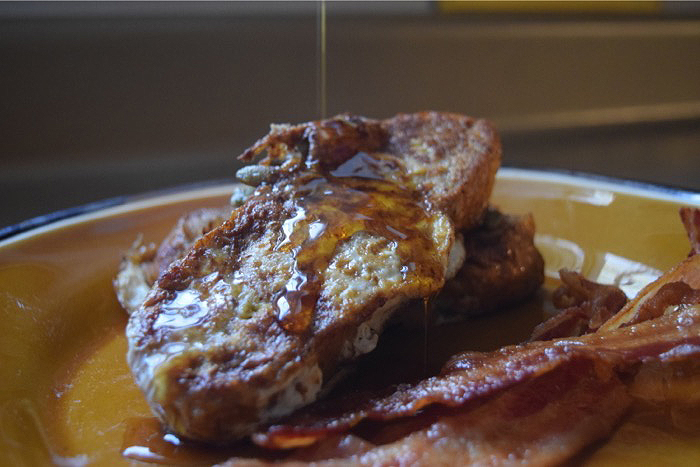 I hope you have enjoyed this story as much as I enjoyed learning more about it –and savoring the leftovers! If you are a local business and would like to share your story please contact me. I am inspired by so many local businesses that I want to share them with you all! LOVE LOCAL! xo-Wendie
Busy? Stressed?
We know the Holidays get crazy. We get it. You barely have time to breathe. So join us for our FREE 5-day holiday stress less challenge and lets do this together! Get your copy and start with us today!