Happy Saturday to every lovely mom out there! I hope you had a wonderful week coming back to reality after all the Holiday shenanigans.  I still feel like I'm trying to get my act together for 2017.  My trip to Illinois to see the family was fun, and my mom sent me back 4 boxes of her home made candy. I'm ready to get back on track with some movement and exercise after the long car ride back!
If you need a little motivation in the nutrition department, I have you covered.  If I ever get stuck in a rut with too many bonbons, a quick reminder of how EASY it is to snack on something nutritious and good for me is always helpful so I put this quick infographic together for a reference.
Easy Healthy Snacks for Busy Moms.
Busy Popcorn, Avocado Toast, Sweet Potato Fries and Nourish Bowls are what we have our eye on for easy healthy snacks when it comes to busy moms in 2017! Have you tried any of these yet? Don't forget to let me know which one was your favorite!
Happy Snacking, Happy New Year, and heres to feeling your best in 2017!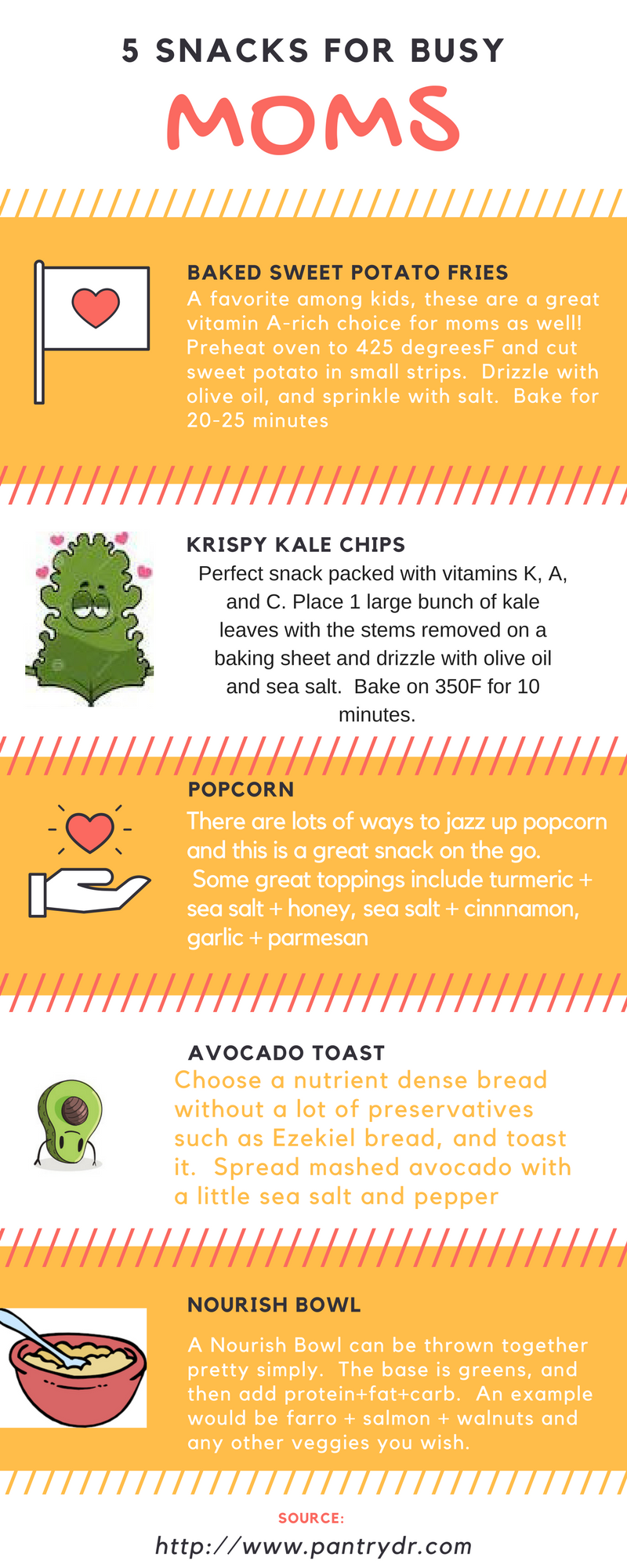 Its also time for a 2017 challenge –a Green Smoothie Challenge! Sign up for 5 days of Green smoothies.  All of them are super tasty and easy to make! If you haven't tried them yet, here is your chance.  Join us on January 1!
I also want to give a huge thank you to Amber Michels of Your Milk Shoppe and Ashley Minelli for having me on the Mommy Matters Segment this morning! I had so much fun sharing with them these healthy snacks for moms. Their excitement and support for young moms is contagious!
Also, we are kicking off a membership program with weekly meal prep plans starting later in January.  You can download your free week here.   I am really excited about some new programs this year, both online and with 1:1 nutrition coaching.  One program I am no offering is a 3 and 6 month program for moms in pregnancy and beyond.  I don't know about you, but I sure am ready to start 2017 off on a more balanced and delicious note!
Stay tuned this week for the most popular posts of 2016! This is always one of my favorite posts of the year because it gives me time to go back and reflect.  So look for this in the next couple days, and catch me on the Monday morning show with Jack and Megan.  I will be talking ways to clean up your pantry and your life in 2017!
xx,
Wendie
PD Lifestyle Community
Are you over diets? I know I am. Learn more about how to make a Lifestyle Shift with our online community!