Health Gifts for Your Valentine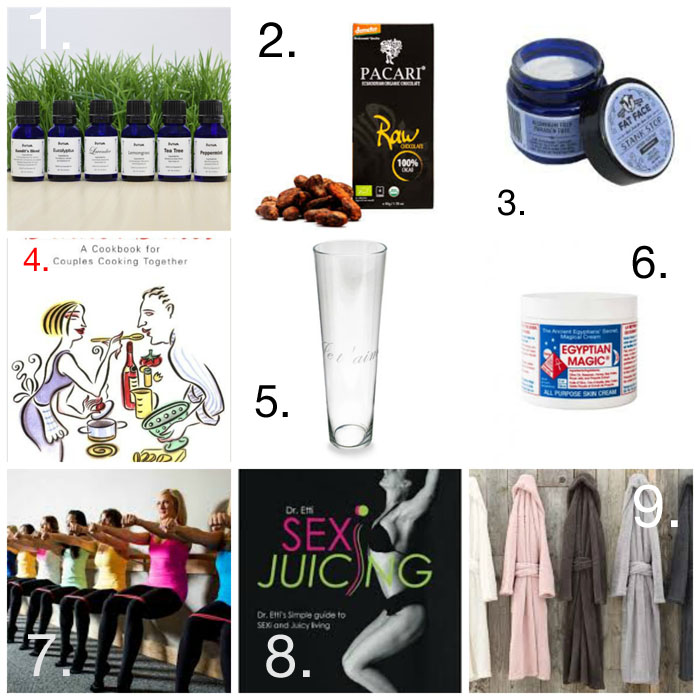 No. 1:  iVIVA's essential oils are sourced from ethical producers around the world, and they only sell the finest quality available. They are a local company in Greenville, SC and they currently carry these oils: Bandit's Blend (iVIVA's unique blend and powerful combination much like Thieves), Eucalyptus, Grapefruit, Lavender, Lemongrass, Patchouli, Peppermint, & Tea Tree.
No. 2:  Treat yourself to something quite special and exquisite…Pacari Premium Organic and Raw Chocolate that is simply amazing! Winner of many prizes from The International Chocolate Awards.  This is one of my favorite brands – it is so decadent and smooth! Pure Ecuadorian Arriba Nacional Cacao has been properly fermented and dried keeping the highest amount of antioxidants intact. Savor it for yourself! There is nothing like it!
No. 3:  Stank Stop by Fat Face skincare. Handmade, Real Food for Your Skin! Another way to treat your body special not only this Valentine's Day but every day is by providing it with the best ingredients possible especially to those sensitive areas like our underarms. This has a beautiful scent from Lavender or Cypress essential oils so it is great for women or men! This natural deodorant is effective and comes with the peace of mind that there are no aluminum or parabens.  There are only organic ingredients in this lovely natural deodorant!
No. 4: Dinner Dates: A Cookbook for Couples Cooking Together.  I just bought this book and it is so fun! The meals are delicious, but SIMPLE. They take a couple step by step through preparation of fabulous 5-course meals!  After years of dating, it is great to have someone enjoy being in the kitchen with me.  If you have (or want to try) cooking date nights, this book is on point! It includes the shopping together, prepping, cooking, and eating -of course!
No. 5: Je t'aime I Love You etched, stemless champagne flute.    Isn't this the cutest champagne glass you have ever seen?!
No. 6: Egyptian Magic Skin Cream is a luxurious way to treat your skin to some serious moisturizing especially during these dry winter months!  This is a healing balm that is known quite well with many celebrities, fashion, and beauty industries not only because of the many uses, but also because it is so pure and superior. It contains: Olive Oil, Beeswax, Honey, Bee Pollen, Royal Jelly and Propolis Extract.  Truly a wonderful combination of healthy foods for your skin!
No. 7: Pure Barre – Have you heard about Pure Barre? If you haven't, you should! It is one of my favorite places to work out! I started doing Pure Barre 3 years ago when it came to Greenville and I wanted to hear what all the hype was about.  I instantly fell in love with the tough workouts and the burn that came with my backside and thighs later. Not only is it for all ages, shapes and sizes, they have a shop full of cute gear! Come join us for Breakfast at the Barre this month! Check it out here. 
No. 8 Sexi Juicing.   I'm not one to recommend a juice "cleanse" because I think that juicing can be incorporated into a whole foods plan to give you all the health benefits you need without the restriction.  Check out my inTENsive Reset & Refresh if you want to get back into a healthy lifestyle.  I love juice, however, and if you own a juicer, this book has loads of fabulous recipes to try.  Not to mention the perfect title for Valentines Day!
No. 9: I'm pretty obsessed about a good, comfy robe and I am currently pretty obsessed with these from Pine Cone Hill.  
xoxo, Wendie
Disclosure: This post contains affiliate links which doesn't affect you at all, but if you purchase something from a link, I get a tiny commission which goes to keeping this blog running.
Busy? Stressed?
We know the Holidays get crazy. We get it. You barely have time to breathe. So join us for our FREE 5-day holiday stress less challenge and lets do this together! Get your copy and start with us today!