Its All Good– or is it? This is my first in a new celebrity cookbook series that I am very excited about! It is called Wendie's Cookbook Club and you're invited! In this new cookbook series, I will dish about the GOOD, the BAD, and the TOTALLY RIDICULOUS.
In my first review, we will discuss Gwyneth Paltrow's second cookbook, It's All Good.   This book was written after her physician put her on an elimination diet for stress and fatigue.  Elimination diets are quite the buzz lately.  In this cookbook the recipes are dairy-free, and many things are off-limits including: coffee, alcohol, sugar, soy, wheat, red meat, and absolutely nothing processed.  In this cookbook, Gwyenth sets out to make an elimination diet taste great.  Always up for a few evenings in the kitchen, I decided to uncover the truth.
THE GOOD
The book is really beautiful.  I love the photography and food styling.
The honest truth here –with very few ingredients, The "Braised Chicken with Green Olives and Lemon" on pp. 98  is crispy, full on flavor, juicy, and above all Pantry Doctor approved!  All real ingredients here kids.  It will change your life.  It was even better reheated the second night as it cooked in its bed of juicy yumminess.  If you want to impress your friends, have this at your next dinner party.  The best part is it is less than 10 ingredients! I served mine over polenta and it was amazing.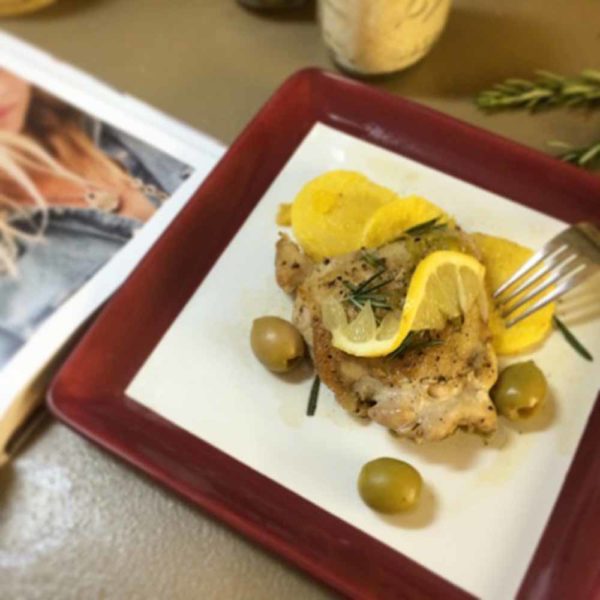 BRAISED CHICKEN WITH LEMON AND OLIVES
1/2 chicken, cut up, at room temperature)
coarse sea salt
freshly ground black pepper
2 tablespoons extra virgin olive oil
3 shallots, sliced into thin rings
1.5 cups chicken ctock
2 garlic cloves, peeled and cut in half)
10 large green olives, pitted
leaves from 1 sprig of thyme
Juice of 1 lemon
Generously salt and pepper the chicken on both sides. Place the olive oil in a large enameled cast-iron pot set over high heat. Add the chicken, skin side down, and cook until deeply browned, 4 to 5 minutes (be warned: it will smoke a lot). Turn the chicken over and let it brown on the second side, another 4 to 5 minutes. Remove the chicken to a plate and set aside.  Turn the heat to medium and add the shallots to the pot.  Cook, stirring often, until they begin to soften, 3 to 4 minutes. Add a splash of the chicken stock and use a wooden spoon to loosen any bits of shallot or chicken that might be caught at the bottom of the pot (aka the best bits).  Add the remaining stock to the pot and add the chicken, skin side up, along with any juice that's accumulated on the plate. Scatter the garlic cloves, olives, and thyme sprigs over the chicken.  Evenly pour the lemon juice over all. Bring the mixture to a boil, turn the heat as low as it will go, cover the pot, and cook for 1 hour, or until the chicken is nearly falling off the bone.  Uncover the pot and raise the heat.  Let the pot boil to reduce and thicken the sauce until it's the texture of a great gravy – not too thin, not too thick – 5 to 6 minutes. Serve hot with veggies or grains on the side.
The second recipe I tried was her turkey meatballs on pp. 105.  I served them with a Pantry Doctor approved vodka sauce from Trader Joes because I was short on time.  I served them over zoodles from my spiralizer.  Perfect zucchini noodles in a minute! This one is only $5, and I just use it like a pencil sharpener–with a couple of twists you have a plate of faux pasta. This dish was delicious, satisfying and above all good for you!  Don't get me wrong– fresh pasta is on my menu, and you can't beat real meatballs and gravy.  One of my favorite places to get fresh pasta (for you Greenvillians out there) is Naked Pasta.  While I don't eat pasta everyday, it is all about moderation.  This Turkey Meatball recipe is a nice, healthy switch for an everyday weeknight meal.  Your abs will thank you.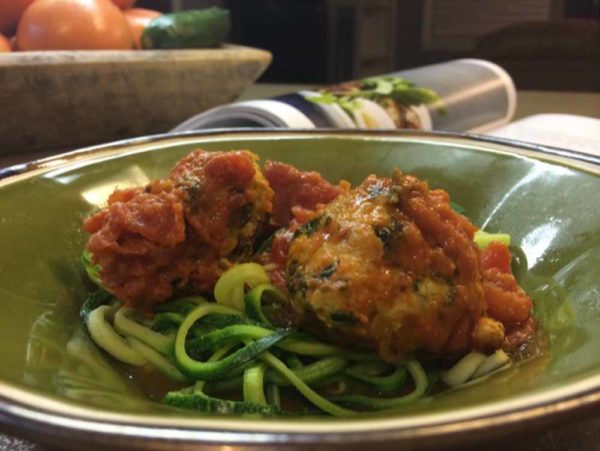 TURKEY MEATBALLS
Serves 4 (makes 24 meatballs)
1 small onion, coarsely chopped
1 cup arugula, coarsely chopped
1/4 cup Italian parsley
2 cloves garlic, coarsely chopped
8 fresh sage leaves
8 fresh basil leaves
Leaves from 4 sprigs thyme
Leaves from 1 sprig rosemary
1 lb ground turkey
1 teaspoon coarse sea salt
1/2 teaspoon freshly ground black pepper
3 tablespoons olive oil
In a food processor, pulse onion, arugula, parsley, garlic, sage, basil, thyme and rosemary until finely chopped. In a bowl, combine onion-herb mixture with turkey, salt and pepper; mix with hands. Roll turkey mixture into 24 golf ball-sized meatballs. (I can never get it to make 24 meatballs. The most I've made with this recipe is 16). In a large pot over low heat, warm tomato sauce. In a large nonstick skillet over medium-high heat, heat oil. Cook meatballs in skillet in batches, stirring, until browned, 10 minutes. Transfer meatballs to simmering sauce (recipe below); partially cover pot. Cook meatballs, stirring occasionally, 30 minutes. Serve hot with gluten-free pasta or polenta or vegetables.
THE BAD
The knives are out over the cost of some of her recipes.  One blogger estimated a day of eating like Gwyn would cost us regular Joes around $300.  I can honestly say this, some of the ingredients were really hard to find.  We have access to a lot of things here in Greenville, but when I went to hunt down quinoa flakes for the homemade granola I came up empty-handed.  Even at Whole Foods.  One of her recipes calls for duck eggs which can also be a hard find.  One PD unapproved ingredient is xylitol for sweetening.  Any diabetics out there that have eaten too many sugar-free cookies or candy? Then you know exactly what I'm talking about when I say GI distress!  Some PD approved natural sweeteners are maple syrup and local honey.  Stay away from xylitol unless you want to deal with bloating, cramps, or worse–  unnecessary trips to the bathroom. Not sexy.  Again, your abs will thank you.
THE COMPLETELY RIDICULOUS
Veganaise.
To check out Gwyneth's cookbook for yourself, click here.  I'd love to hear your feedback. Have you tried any of her recipes? [sc:apple]
Follow my blog with Bloglovin
Busy? Stressed?
We know the Holidays get crazy. We get it. You barely have time to breathe. So join us for our FREE 5-day holiday stress less challenge and lets do this together! Get your copy and start with us today!