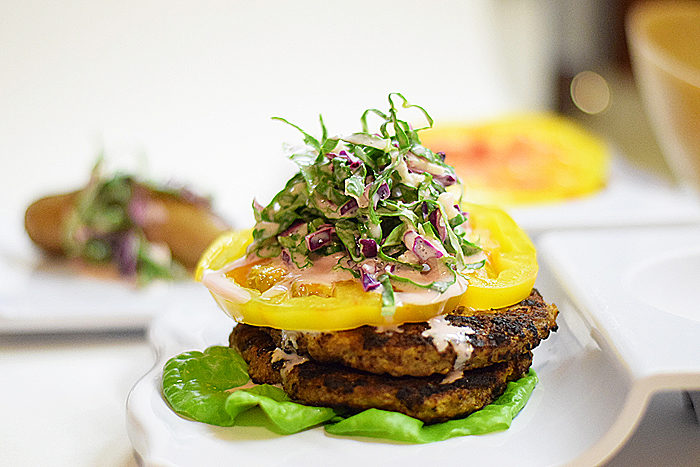 Note: "Naked" is only an operative/catchy title for this naked burger recipe.  What you choose to wear while grilling out on the 4th is your perogative.
Let's get Scandalous with this Naked Burger.
Hi friends! How was your week? I hope you enjoyed a vacation or at least a Holiday to rest and rejuve. This has been a busy week for me.  I posted this naked burger recipe originally in 2013, but put a new twist up earlier this week on the Greenville 360 blog.  If you are a burger lover, this recipe is also one of my favorites.
Yesterday, I was on Your Carolina talking  quick, easy and healthy marinades.  If you missed my 3 favorites, you can find them here. 
What are your plans this weekend?  Is your schedule jam-packed with events or is it just a relaxing day with some chill vibes, a beer, and your grill?
Todays recipe is a big, luscious burger with ALL the toppings and its soooo delish you won't even want to eff with the bun.   Maybe a beer.  I like to call it balancing your carbs wisely 😉
Naked Burgers with Tangy Apple Slaw
Ingredients
Burgers:
1 lb grass fed beef
1 egg
1 head of Romaine
1 tomato
1 red onion
1 avocado
Apple Slaw:
2 cups of red and green cabbage
2 carrots, shredded
3/4 cup full fat Greek yogurt
1 Tbsp apple cider vinegar
2 Tbsp maple syrup
2 green apples, peeled cored, and shredded
Sea salt and pepper
Instructions
Burger:
Mix the beef and the egg in a bowl and shape into a patty.  S&P. Grill 4-5 minutes on each side for medium burgers.
Wash and slice the lettuce and tomato. Put the lettuce on a plate, top with the cooked patty, onion, tomato and avocado.
Apple Slaw:
Mix cabbage, carrots, apple, yogurt, apple cider vinegar, maple syrup and S&P in a bowl until creamy and top burger with this tangy slaw!
https://pantrydr.com/get-scandalous-naked-burgers/
Related articles across the web
Busy? Stressed?
We know the Holidays get crazy. We get it. You barely have time to breathe. So join us for our FREE 5-day holiday stress less challenge and lets do this together! Get your copy and start with us today!