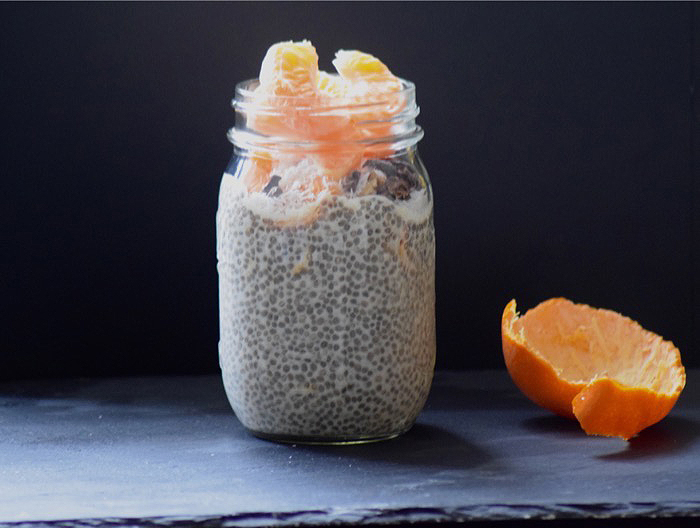 Ya'll know I love my chia seeds.  When I find a recipe that I make over and over because its so EASY I know it needs to be shared.  This 4 -ingredient chia seed easy pudding recipe tastes so fresh and is loaded with tons of healthy fats! This recipe is a single serving, but can be split into two.  By the time I added all of my toppings, I definitely could not finish the whole thing!
The toppings are my favorite.  Play around with them and find ones that you love.  Some of my favorites are: unsweetened shredded coconut, pecans, cacao nibs, and tangerine slices. I love starting my mornings off with this super easy, fresh breakfast on the weekdays.  It gets me in the right mindset for the day ahead and holds me over to lunch if I have a busy morning. Why not reach for something quick and healthy in the morning?
4-ingredient Dreamsicle Chia Seed Pudding
ingredients:
1/3 cup chia seeds
1 cup milk of choice (I use almond or coconut)
juice from 1 tangerine
1/2 tsp pure vanilla
directions:
Mix all ingredients in a mason jar and put in the refrigerator until it becomes a pudding-like consistency.  This can be stored in the fridge for up to 3 days.  Serve chilled with desired toppings.
Enjoy!
xx
Busy? Stressed?
We know the Holidays get crazy. We get it. You barely have time to breathe. So join us for our FREE 5-day holiday stress less challenge and lets do this together! Get your copy and start with us today!