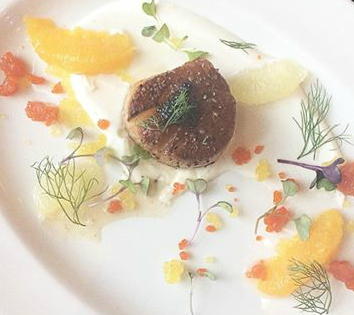 Today I am excited to share my first Dirty Dishing Weekly post. If you're interested in learning the truth about today's popular trends in health, recipes and current events, check back every Monday for Dirty Dishing Weekly. I am looking forward to sharing these neat tidbits and starting to clean up your knowledge of health and wellness one dish at a time!
Now let's get to it! Last week was a wild week so I am hoping this one will give me some time to rest and reboot, including lots of time outdoors now that spring is blooming and beautiful!
WHAT I'VE BEEN UP TO THIS WEEK
I took one night out to enjoy Greenville's Small Plate Crawl.  That scallop at Hal's Chophouse was my favorite small plate! Friday and Saturday I had a blast tucking with my Pure Barre family and sharing my Overnight Oats and Chia Pudding with great ladies at Breakfast at the Barre!


WHAT I'M READING 
No.1: Eat more and exercise less? Loved this article about what "going paleo" and some seriously cool information regarding disordered eating and what it can do to your body.
No.2: I am loving this article for Female Professionals that want to own the table, not just have a seat at it. Go for it ladies!
WHAT'S NEW 
My new line of Overnight Superfood Oats is almost ready to make its appearance.  We have found our production facility and are putting the final touches on packaging and labeling so these can be shared with all of you! Right now, they can be found at Fitness with a View and Good to Go GVL.  If you have any questions, feel free to shoot me an email at : wendie@pantrydr.com.
IN CASE YOU MISSED THESE
RECIPE I WOULD LOVE TO TRY: 
These blender banana oat muffins look like a quick, easy way to prep for the week!
LAST YEAR AT THIS TIME 
I still had a pancake obsession-who knew? haha!  This time it was with ghee-  honey ghee to be specific.  Check out the recipe and product here. 
COMMENT OF THE WEEK
"Day 11.  Sticking to it and loving it!!! Down 8 pounds after the inTENsive Reset and Refresh! You guys are my accountability group. "
Even though my plan is to relax a little more this week, I am working hard on the next inTENsive Reset that will be launching in May focusing on getting you a great Bikini Body. It will incorporate 10 days of eating real, whole foods and a specialized exercise plan. Yes, believe it or not, to achieve that bikini body your looking for, you will be able to eat food and lots of it! If you missed the first one or want to start now, you can find it here: The inTENsive Reset and Refresh. 
xx
Wendie
Busy? Stressed?
We know the Holidays get crazy. We get it. You barely have time to breathe. So join us for our FREE 5-day holiday stress less challenge and lets do this together! Get your copy and start with us today!