Dining out can be tricky.  Sometimes you plan date night to the latest hotspot with rave reviews with the best intentions, but there so many variables that come in to play with that one trip to the restaurant.  Everything from where you sit, to the location and parking, to service, to taste, presentation, or an unexpected surprise can make your trip to that restaurant a lifetime memory or something you can't wait to forget.
Since I love learning about new restaurants and traveling to new places, I was extremely excited to make the trip to Raleigh, NC for the final competition in the Competition Dining Series Battle of Champions.  Chef Ryan Conklin of UNC Rex Healthcare battled Brent Martin of the Summit Room in Charlotte.  The secret ingredients were Jarrett Bay oysters and Outer Banks SeaSalt.  Here are some of my best memories (and dishes!) from my weekend in Raleigh.
Competition Dining Battle of the Champions.
I started my trip to a little bakery and cafe called La Farm.  This stop was a must as the white chocolate bread was one of the first things I ever tried at these competitions.  La Farm supplied the bread for the tables at every event, and they made a winner out of me.  Stay tuned for more on La farm in the near future.  I couldn't leave North Carolina and not get an interview –and a freezer full of bread!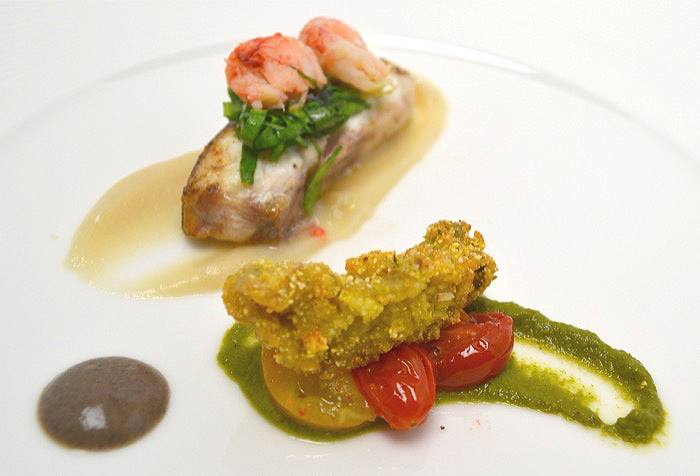 pictures via Competition Dining 
Course 2
 In the famous words of Julia Childs: "I love to cook with wine…sometimes I even put it in the food".  On top of all the fabulous wine we had at our table, course 2 had me at black truffle. I could bathe in black truffle.  Sometimes, I like to cook with it!
Cornmeal Fried Jarrett Bay Oyster, Slow Roasted Tomatoes, Rosemary Chimichurri; Pan Fried NC Grouper, Cauliflower Puree, OBX SeaSalt, Black Truffle, Sorrel and Langoustine Salad
by
Chef Ryan Conklin
Dessert (s) 
As with anything else in life, working out has its good and bad days.  Some days you fly through a workout and some days you can hardly put one foot in front of the other.  In any case, I try to get some form of movement in every single day.  It keeps me healthy, strong, and able to handle dessert when it is passed my way — or 2 for that matter.
These were by far the best part of this particular dinner as oysters are better left alone in my opinion.  I don't like to share my oyster with any other protein on the plate, let alone drowned in BBQ or doused in pickles.  Just the oyster, a little horseradish, and hot sauce.  A little ocean in my mouth.
Let's get back to the desserts ASAP.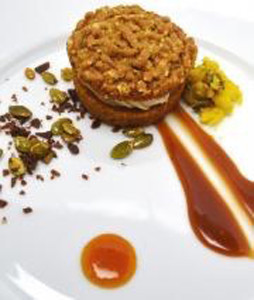 Roasted Pumpkin Cake with Spiced Marcona Streusel, Cream Cheese Icing, OBX SeaSalt Caramel, Candied Pepitas, Cinnamon Shards, Pumpkin Gel
Chef Brent Martin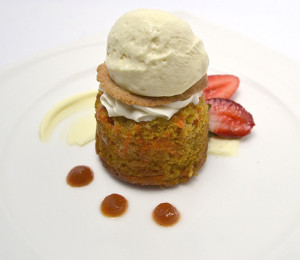 Tres Leche Carrot Cake, Saffron Mascarpone, Cloister Honey Frozen Custard, J&J Farms Apple Butter, OBX SeaSalt Salted NC Strawberries, High Rock Farm Chestnut Tuile
Chef Ryan Conklin
Lastly, I was so very glad to see Ryan take the competition.  Both are excellent chefs, but I had a soft spot for the chef working in healthcare.  Ryan has a unique vision, and I briefly talked to him about it when I sat with a table of finalists at the final dinner in Greenville.  I was excited to see him win the battle and even more so when he shared a little more about his background with me in this interview.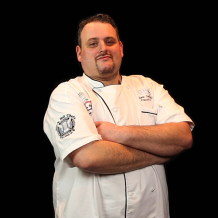 Describe to me what you do in two sentences or less.  I'm the executive Chef for UNC Rex Healthcare in Raleigh. That entails managing the day to day food  production of close to 4500 meals daily.
What is your formal training/background?  After culinary school in New York, I worked in the restaurant & hotel industry for about five years. I was a chef at Four Seasons Hotel in NYC, and a European Bistro in Limerick Ireland, before accepting my first executive chef role at age 24 in New York's Hudson Valley Region.
How did you begin working in the hospital setting?  I was looking for a quality of life change. Good benefits, and time off really started looking more and more attractive to me, as I accepted a position as Chef manager for a Hospital System in Newburgh NY. I was there for four years, and really learned how to be a strong leader in that role. It was here in  NY, that I started to realize that the healthcare industry was desperately in need of top tier culinary talent.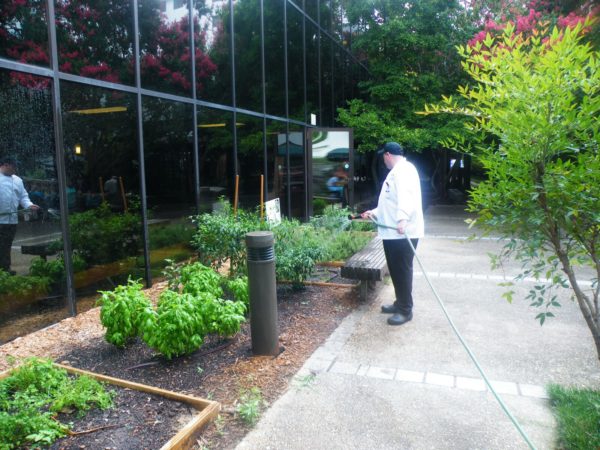 Amen to that. Do you have a favorite quote?  "You miss 100% of the shots you don't take." – Wayne Gretzky
What is the best and worst thing about being a chef in healthcare? The best would be having the opportunity to build a team that comes from the restaurant industry. Seeing their quality of life change because they go from a 70 hour work week, to a 40 hour workweek is very special to me. I love hearing about how now that they work for the hospital, they have more time to spend with their kids!
The worst would be dealing with all the negative comments about the "Hospital Food" stigma.  Let's face it, the Healthcare industry really isn't known for great food. I do hope my teams Competition Dining win has helped to sway that opinion with some, as well as inspire other healthcare chefs to step up their game.
If you could have one last meal on earth, what would that be?  A Crab & Shrimp boil with all of my family and friends would be the best way to go out for me!
The final ingredients were oysters and sea salt. What was the biggest challenge you had in this final battle?  Shucking all of those oysters for sure. I had a nice blister on my hand walking away that night! Also, we had to think of the people that didn't care much for oysters. We knew that we had to design a menu so that all diners would be happy, that's why we took advantage of the fresh NC Grouper, Pork, and local vegetables as well.
What was your favorite meal you have ever prepared for someone?   A few years back, I did a cooking demo with my son as my helper at the Poe Center for Health Education in Raleigh. He was only 8 years old, peeling carrots, chopping onions, and talking about the health benefits of superfoods with me. Its moments like that that I've learned to really cherish.
Do you have a favorite cooking tool?  A good Vitamix blender is essential. I also am starting to really love my new Smoking Gun as well.
What is your favorite recipe?  Crabcakes. It's something that I learned while doing an internship at Crab & Fin in Sarasota, Florida. Start with a pristine, high quality crabmeat. Then let it shine, and add just a few simple ingredients to highlight the crab, without masking its taste. I see too many people try to do this with the opposite approach.
Where do you see yourself in the next 2-3 years?  Hopefully continuing to lead the charge on re-inventing what "Hospital Food" is known for. Our industry has a tremendous amount of culinary talent, and I want to be advocating for better healthcare food with all of our chefs out there!
Lastly, where can everyone keep up with you?  You can follow me on twitter  @chefryanconklin
I hope you all enjoyed this series on Competition Dining.  I am so glad that I was able to attend these and learn more about their support for local chefs, farmers, and Carolina products.  The next series starts in January.  Stay tuned! For more information visit their website.
Busy? Stressed?
We know the Holidays get crazy. We get it. You barely have time to breathe. So join us for our FREE 5-day holiday stress less challenge and lets do this together! Get your copy and start with us today!