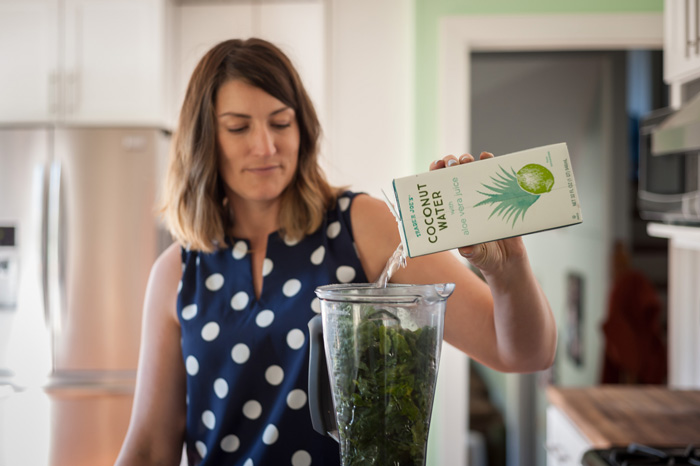 Hey there! Are ya'll wondering what this #dailydoseofgreens is all about?? I hear you— I've been right where you are –I remember trying my first green smoothie recipe.  This was created with you all in mind.  Its a great Beginner Green Smoothie Recipe if you have never tried them before, just get over the color, ok?
Well, now that I have learned to incorporate Green Smoothie recipes into my daily routine— I feel responsible for helping you see why it is so important to our health.  Green smoothies can be very simple and very yummy…yes, believe me, they CAN!
This smoothie recipe is full of iron, potassium and is loaded with vitamins— and tastes like a yummy treat from the islands this time of year.  So head to the store, grab your 5 ingredients and give it a try! I know you will be pleasantly surprised.  I invite to you get your #dailydoseofgreens every single morning for 5 days and see how great you will feel!
Start here with BRING IT ON 2017 Smoothie Recipe and let me know what you think. When you're ready for the next step, I have you covered!
BRING IT ON 2017 SMOOTHIE
Ingredients
1 handful spinach
1 frozen banana
1/2 pear
1 cup coconut water
1 scoop vanilla protein powder (optional)
Instructions
Directions
Start with greens and toss into blender. Add coconut water and protein powder and blend together until all leafy chunks are gone. Next add in frozen banana and pear and blend again.
Tips
1. Use at least one frozen fruit to chill your smoothie.
2. If you aren't a big fan of bananas, feel free to substitute with another fruit, like pineapple. You can even freeze the bananas and pineapple first to reduce the flavor and also add some extra chill to your smoothie.
https://pantrydr.com/bring-it-on-2017-smoothie-recipe/
Cheers to your health in 2017! 
xx, Wendie
Busy? Stressed?
We know the Holidays get crazy. We get it. You barely have time to breathe. So join us for our FREE 5-day holiday stress less challenge and lets do this together! Get your copy and start with us today!