How do you get through the week? Blackened Monkfish with Mango Salsa.
This simple dinner is super easy, and full of flavor.  I am discovering new places to shop and source food after my move to New Jersey.  As I was purusing the fish counter, I came across monkfish.  Known as poor man's lobster, this meaty fish is more like a steak.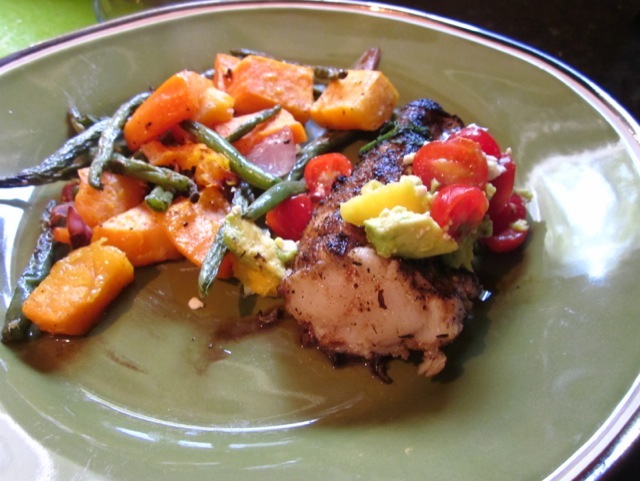 Monkfish is thick and perfect for blackening.  First thing is first: the rub.
1) The rub I put together was sea salt, garlic powder, ground pepper, thyme, fresh grated ginger, and Trader Joe's 21 seasoning.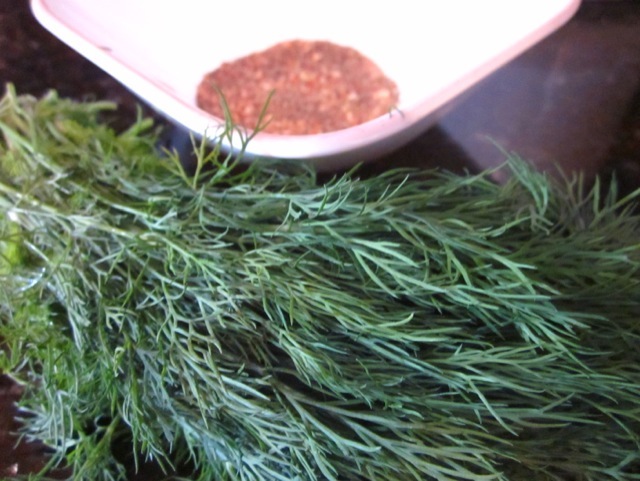 2) To blacken the fish, heat a cast iron skillet on high so that it gets really hot.  Rub the seasoning over the fish on both sides, and lay  fresh dill on the fish.  I use 2 tsp of Kerrygold grass-fed butter in the hot skillet, then blacken the fish on one side for 2 minutes. Flip the fish over, and pour another tsp of butter over each filet while it is cooking.  To learn more about why I use grass-fed products click here.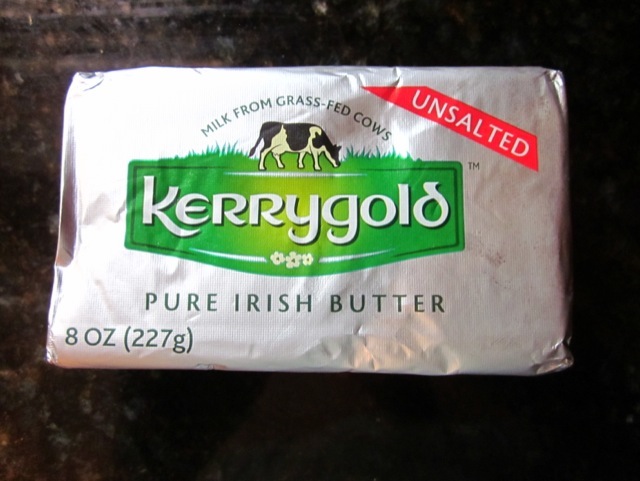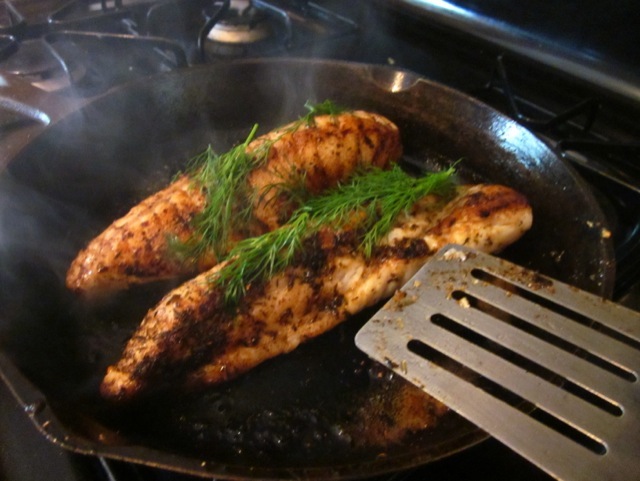 3) For the mango salsa: you will need a fresh mango, avocado, and cherry tomatoes.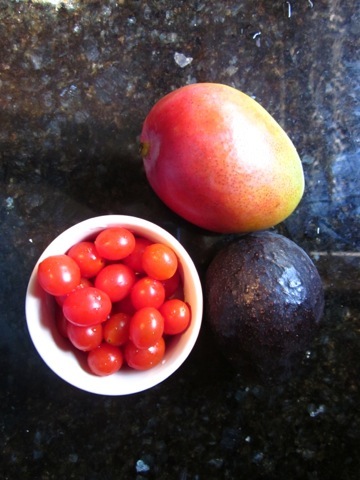 4) Slice up the cherry tomatoes, avocado, and mango.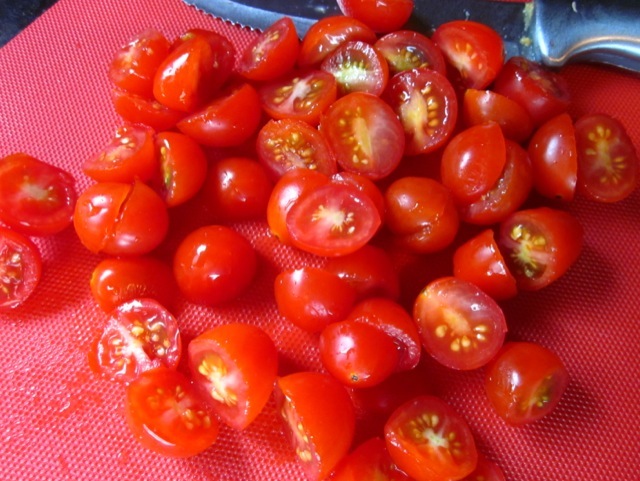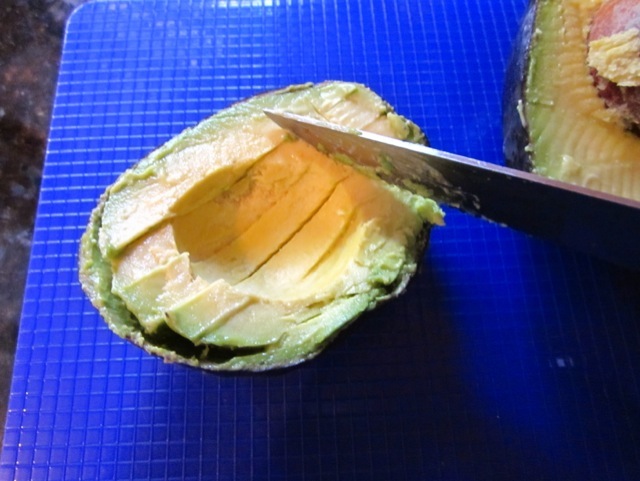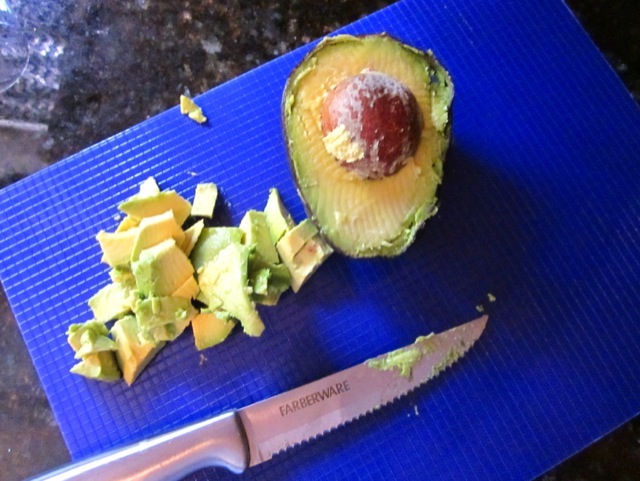 5) Top fish with the salsa.   I served this with roasted butternut squash, green beans and red onion. It's so easy!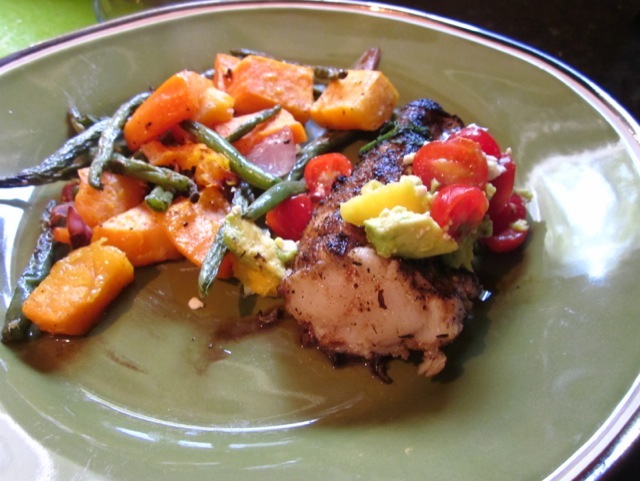 Pantry Doctor Fish Rub:
2 tsp garlic powder
1 tsp sea salt
1 tsp black pepper
2 tsp Trader Joes 21 seasoning mix
2 tsp thyme
1 tsp grated fresh ginger
fresh dill
Blackened Monkfish:
2 monkfish filets
4 tsp Kerrygold grass-fed butter
fish rub
Mango Salsa:
1 mango
1 avocado
1 cup cherry tomatoes
Try this with side my simple side of roasted butternut squash.
Have you every tried poor man's lobster? [sc:apple]
Busy? Stressed?
We know the Holidays get crazy. We get it. You barely have time to breathe. So join us for our FREE 5-day holiday stress less challenge and lets do this together! Get your copy and start with us today!