I am so excited to share with you 11 Fresh Hydration Ideas from fellow RD's and food bloggers around the country! Water is one of my biggest struggles to get in each day (because, hello life) so I thought I would crowdsource and find out what other people are doing to make water more exciting and fun!
Next week, I will be sharing a 4-ingredient breakfast cookie so please come back and share in on the fun!  But for now…
11 Fresh Hydration Ideas
The Frosty Coconut Mint Green Tea Mocktail
From Rebecca over on Strength and Sunshine
Get the Recipe Here
Honey Ginger Warm Lemon Water 
From Emily, Registered Dietitian over at Emily Kyle Nutrition.
Get the recipe here 
Cucumber Mint Chia Fresca 
from Food, Pleasure & Health
Get the recipe here 
Strawberry Citrus Infused Water 
From Jen, a Registered Dietitian over at Nourished Simply.
Get the recipe here 
Blueberry Coconut Bubble Water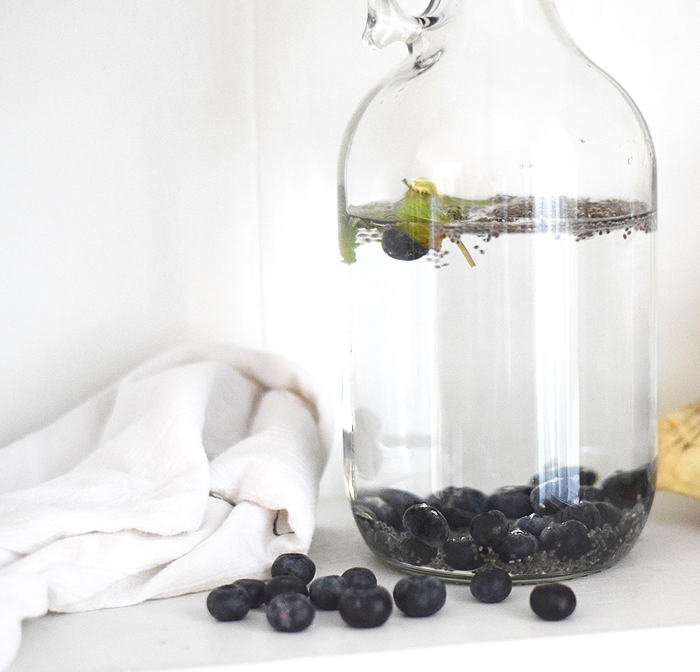 This one is mine!   Just add blueberries, mint and chia seeds.  For a jug this big, I added 1/2 cup of chia seeds.  Refrigerate 1-2 hours before drinking. Enjoy! This is a great replacement for the Mama Chia drinks you see at the store.
Watermelon Lime Ice Cubes
From Natalie Rizzo, Registered Dietitian from Nutrition a' la Natalie
Get the recipe here.  
Extras
Other Ways to Jazz Up Your Water, Juice Alternatives, Teas, and Mocktails! 
Jazz up your water:
http://www.talkless-saymore.com/4-ways-switch-water/
http://karalydon.com/recipes/hydration-101-jazz-up-your-water/
Refreshing Iced teas: 
http://nourishednce.com/3-refreshing-iced-teas/
Juice alternatives: 
http://nutritiontofit.com/juice-alternatives-and-fruit-infused-water/
A fun mocktail! 
http://www.talkless-saymore.com/sparkling-watermelon-mocktail/
I hope you enjoy guys!
xx,
Wendie
Busy? Stressed?
We know the Holidays get crazy. We get it. You barely have time to breathe. So join us for our FREE 5-day holiday stress less challenge and lets do this together! Get your copy and start with us today!